Architect Laurel "Lars" E. Carlsson was born in Marquette, Kansas on September 2, 1920. He grew up outside of Lakewood, New York on a fruit farm.
Carlsson began his formal education at Bethany College, in Lindsborg, Kansas, receiving a Bachelor's degree in mathematics, chemistry and art in 1941. After graduation, he took a job as a material controller at the North American Aviation Plant in Kansas City – building B-25 bombers. With WWII in full swing, he entered the Army Air Force Meteorologist Cadet Program at the University of Chicago. Graduating as a Second Lieutenant in 1943, Carlsson eventually reached the rank of Captain, and served overseas until 1946.
After returning to the States, Carlsson decided to go back to school and received a Bachelor's in Architecture from Washington University, in St. Louis in 1949. During the summers he gained valuable experience by working for architects Emil Bayerl and Charles Marshall.
Upon graduation, Carlsson moved west to take a job as draftsmen for noted architect John Maloney in Seattle (1949-50). He then migrated to Spokane and took a job with the architectural firm of Whitehouse & Price (1950-51), and then became the chief designer for architect Victor L. Wulff for 10+ years (1951-1962). As Wulff's right hand man, Carlsson was responsible for designing many of Wulff's projects including Saint Paul's Lutheran Church, the MuCluskey Services Building at WSU and over a dozen schools in and around Spokane. While working for Wulff, Carlsson received his architectural license (No.782) in 1954.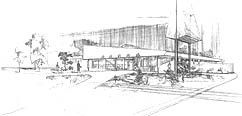 In 1962 Carlsson formed a short-lived partnership with E. Norman Sylvester. Within a year he decided to open his own independent practice. Based in the Spokane Valley east of downtown Spokane, Carlsson's practice thrived.
Notable projects include the Spokane Eye Clinic (1964); the Spokane Valley Savings & Loan (1964); the North Spokane Library (1971); the Valley Medical Dental Center (1966) in Spokane Valley; Rosauer's Supermarket (1966) in Pullman; and the Central Valley School District 356 Administration Building (1969).
Like many architects of his day, Carlsson was active in the community. He served as a Trustee of the Municipal League in Spokane (1963-65); director of the Spokane Valley Chamber of Commerce (1967-69); and Director of the Construction Specifications Institute.
In 1973 Carlsson moved to Lacey and took a job with the State Department of Transportation. While there, he served as lead architect for facility construction and oversaw the construction and development of the Orcas Island Ferry Terminal.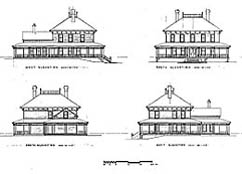 He then took a job as Senior Project Architect for State Department of General Administration (1979-1984). Carlsson was specifically involved in value engineering and project development. Major projects included overseeing the rehabilitation of the Old Capitol Building and the Insurance Building on the Capitol campus; the construction of the State Information Center (1982); and the the State Public Health Laboratories (1985) in Seattle.
Upon moving to the Olympia area, Carlsson became very active in the preservation community. He was involved in a variety of local and state historical societies, as well as a numerous preservation organizations including serving for several years on the Thurston County Historic Commission. He used his architectural skills as a preservation consultant to develop a thorough documentation of the Port Blakely Mill and Townsite on Bainbridge Island. The 100+ page report, compiled with the help of his son Jim, served as a model for other preservation and documentation efforts across the state for numerous years. Other preservation projects included documenting resources at the Dupont Explosive Works site; the City of Tacoma Power Plant No.2; the LaGrande Powerhouse in Alder; and a hop barn in the Puyallup Valley.
Carlsson, who lived on Holmes Island in Lacey, passed away on November 22, 2011 at the age of 91.
By Michael Houser, State Architectural Historian - Dec 2011