Born in Moscow, Minnesota on December 8, 1887, Seattle architect Max Allen Van House moved to Vashon Island as a youth. He received no formal architectural training but instead gained practical on-the-job experience by working for a variety of architectural firms. This included a short stint in Tacoma with architect George Bullard (1908), and the firm of Heath & Gove, and two years in Supervising Architect office of the US. Around 1914 he opened a architectural practice in Butte, Montana with Walter Arnold. Together they designed several notable buildings in Butte and Deer Lodge, including schools, courthouses, theaters, and hospitals.
While in Montana, Van House designed at least two structures in Washington State, a dwelling for the Shawnee family (1916) and Burton High School (1916, demolished) both on Vashon Island.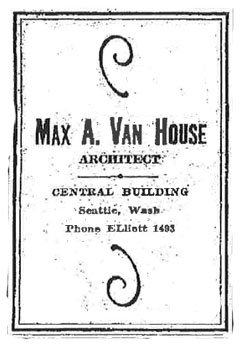 After acquired his state architectural license in 1925 by reciprocity, Van House moved to Seattle and opened an independent architectural practice. His designs include an electric array of buildings executed in a variety of styles. Notable projects include the Mission style Mission Inn (1926); the Jacobethan style Ellenbert Apartments (1928); the Collegiate Gothic style Bering Apartments (1930); and a four-story Art Deco style apartment at 5th & W. Roy St. (1930).
He also proposed a golf course clubhouse (1931) in the Laurelhurst neighborhood for developer W.B. Maxwell. Other projects included the Argo Manufacturing Co. Building (1931); six cottages for Queen City Realty (1932); and the American Legion (1938) in west Seattle.
During the Depression era and war years, Van House took a job with the County Assessor's office, but resumed a practice after the war. Post WWII projects include several homes in the Westover Addition for builder Hebb & Babcock (1947); the Breatheasy Distributors Warehouse (1950); the Hillcrest Manor Apartments (1957); a dwelling for builder Gaylord Pashley in the Marine Hills neighborhood (1958); the Ann Vista Apartments (1958); the McMillin Building (1959) in Federal Way; the Albatross Apartments (1959); and a home on Langston Lane (1960). Among his last projects were a massive apartment/duplex complex, the San Juan Apartments (1963) near Renton which featured multiple buildings, swimming pools, tennis courts.
Van House died in Seattle on April 10, 1966.
By Michael Houser, State Architectural Historian - August 2012