Architect Rolf M. Eskil was born to Norwegian immigrant parents Jorgen and Hannah Eskil on Jan. 11, 1899 in Iron Mountain, Michigan. He and his siblings grew up on a family farm in Iron Mountain, where their father, a "scientific" agriculturalist, grew record-setting potato crops and prize-winning apples and ran a model apiary. By trade, his father was a professional photographer. As a young man Eskil enrolled in the University of California at Berkeley, graduating in 1924 with a Bachelor of Arts degree in Architecture. While unrolled at the university, he worked as a draftsman for the California Public Works Department. After graduation, Eskil his first published design appeared in the 1926 publication Fireproof Homes of Period Designs. His project had been selected to feature in the publication by a jury from Architectural Forum. Many of his designs from this early period in his career were revival styles of Tudor and Spanish Colonial architecture. After graduation Eskil worked for a variety of architectural offices including one in Carmel (1930) and for F.W. Green (1938) Los Angeles.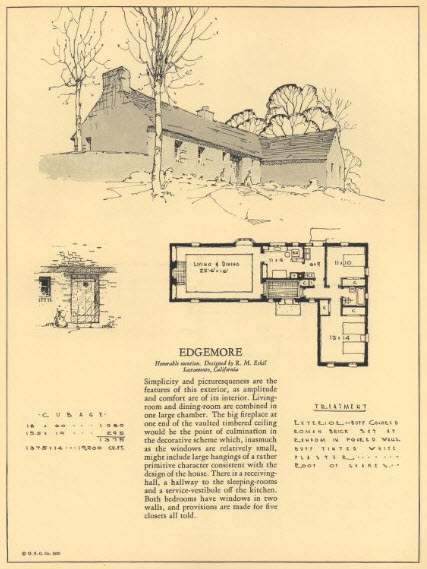 While living in California, Eskil married Katharine Brauns, also from Iron Mountain in 1928. Together they had one child, Susan. For reasons unknown in 1940 the family moved Phoenix, Arizona and remained there for three years. A talented designer, many of his projects were featured in the local newspaper.
In late 1943 the family moved to Washington state, presumably to be closer to his wife's relatives. Katherine father, August Brauns, had purchased orchard property near Entiat in 1918 and started the Keystone Fruit Company to grow, pack, and market apples, pears, and cherries. Following his death in 1934, various family members continued to operate the fruit business.
Records indicate that by 1956 Eskil and his family were living on the Keystone Ranch in Entiat, a 100-acre apple orchard property. While there he also raised Morgan show horses on the ranch. During this period, Eskil continued to practice architecture. His known projects in Washington state are limited. They include the Lake Chelan Lutheran Church in Chelan, Faith Presbyterian Church in Wenatchee (1954), Cascadian Fruit Shipper Elevator (1945) also in Wenatchee, the Boy & Girl Scout Log Cabin in City Park (1957) in Chelan, and the Loup Loup Ski Bowl Day Lodge (1967) in Okanogan. Reportedly he also designed numerous homes in the area, however no residential designs in the state have been verified to date.
Outside of work Eskil enjoyed experimenting with new tree fruit varieties. He retired in 1966 and spent the last 16 years of his life (approximately 1976 to 1992) living with his daughter in Malaga. Eskil passed away in Wenatchee at the age of 93 on September 26, 1992.
Adapted from NR nomination by Jim Woodward & HPIF by Ann Sharley