Often forgotten in the mainstream history books of Olympia, Samuel Green Ward Jr. holds a distinct place in the history of the architectural aesthetic of Olympia. He is credited with bringing the Craftsman style to Olympia. Ward was the son of one of the early pioneering families in Thurston County. His dad, Samuel G. Ward Sr., had come to the Pacific Northwest in 1862 via Illinois, eventually settling in Tumwater. A miller by training, Ward Sr. was elected to the territorial legislature and later the Olympia city council.
Samuel G. Ward Jr. was born in the Olympia on December 16, 1883 and attended local schools. After high school he worked for the Olympia Building & Manufacturing Co., one of the regions largest millwork manufacturers. Reportedly after his dad passed away in 1904, he left the city for a five-year period to study (at an unknown location), but returned to the community around 1909. Then in January 1910 at the age of 26, Ward opened his own independent architectural firm in Olympia. During this time he was the only architect who advertising in the local newspaper. Olympia's better known architect, Joseph Wohleb, came a year later and began marketing himself alongside Ward in April of 1911.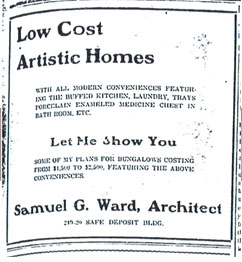 Ward's residential projects include a duplex for George Filley (1910); the Guy Winstanley House (1910); the M.D. Owings House (1910); the Robert Yantis House (1910); a home for theater owner Fred Zeliff (1910); the B. Hill House (1910); the Robert Yantis House (1911); the D.C. Bates House (1911); and the David Parrott House (1911) all in Olympia. Outside of the city, he designed a large summer home for Thomas Bordeaux (1911) in his self-named lumber town, Bordeaux; and a home for the Mrs. Alice Rich House (1911) in West Seattle.
Ward was also very active on the commercial side and designed a significant number of structures in the downtown core of Olympia, which to this day provide the community with a distinct look. The stucco exteriors and scalloped parapets can be found at the two-story poured concrete Lemon Block (1910), the largest building in downtown Olympia at the time of construction; the Brenner Building (1910); the Knights of Pythias Hall (1911); and the Bolster & Barnes Store (1911). He also provided designs for the Masonic Temple (1911 with Tacoma architect George Gove); completed a remodel of the Acme Theater (1911); designed a platform for President Taft visit to Olympia in 1911; and the Farmer's Co-Operative Creamery (1912).
Seeking larger commission he associated himself with the prominent architectural firm of Potter & Merrill of Tacoma around 1911. Together they proposed a design for a new Olympia City Hall (1911); and a design for the Temple of Justice (1911) on the Capital Campus. Unfortunately, neither of these proposals were chosen. Independently he submitted a design idea for a large hotel (1912) in downtown Olympia and submitted proposal for a new Chamber of Commerce Building (1912).

Ward's career in Olympia was prolific but short-lived. He moved to Tacoma after an illness in summer of 1912 and by 1913 he had become a manager for the Far West Clay Co. (1913-14) in Seattle. He then became a salesman for W.E. Company (1915) also in Seattle but newspaper records indicate that by the late teens he had moved to the Portland, Oregon area, serving as a supply manager for the Western Electric Company. By 1930 he had returned to Seattle, this time working as a draftsman at an undisclosed company. Census records note that Ward had moved to Bellingham by 1940, where he served as a manager of a local millwork company.
Ward passed away in Spokane on July 12, 1958 at the age of 74. At the time he was living with his son, Lt. Col. Samuel G. Ward Jr./III (Deputy Commander of the 84th fighter group at Geiger Air Force Base), at Fort George Wright.
By Michael Houser, State Architectural Historian - January 2016