Seattle architect Thomas Latchford West was born on February 28, 1879 in Fairview, Idaho. While his formal education and details of his early life are unknown, West made a significant impact on the built environment in the Pacific Northwest in the early part of the 20th century.
Per census records, by 1900 West had moved to Seattle and American Architect & Building News reported that West had designed a "white pressed brick industrial school building" in Freemont for the Marie E. Holmes estate in 1900. As early as 1901, he formed a short-lived partnership with architect Charles N. Elliott. Projects by the firm, known as Elliott & West, are limited to the Fairhaven Library (1904) in Bellingham; a lodging house at Interbayf or M.K. Kain (1901); the Guiry / Young Hotel (1904) in Seattle; the George C. West House (1902); George Sackett House (1902); and alterations to the H.B. Lind House (1902). They did however advertsie their service as far away as Yakima, so homes design by them might be found in Central Washington.
When Elliott moved to Portland, Oregon, West formed a new partnership with Jacob A. Knapp (a former architect with the Fred L. Fehren & Co). Known residential projects by the firm Knapp & West (1905-1909) include the A.L. Smith House in Helena, Montana; and several properties in Seattle including the C.E. M. Jones House (1905); the Dr. Lawrence Gray House (901 18th St E., 1906); the D.F. Willard House (1906); the A. Bauman House (1906); the Wedekind-Marcellous House (1514 35th Ave.,1907); the Max Ragley House (1625 13th Ave., 1907); the Mary Tousley House (1907); the Thomas Kimble House (16th Ave W., 1907); the Alexander Pantages House (803 E Denny Way, 1907); the Dr. W.L. Gray House (1907); the Lincoln E. Hall House (2909 E. Alder, 1909); the William Devere House (1909); a cottage and office building for J.H. Givens (1906) in Darrington; the Commcercial Club building (1906) in Darrington; and a home for Dr. Hutchinson in Rainer Beach (1909).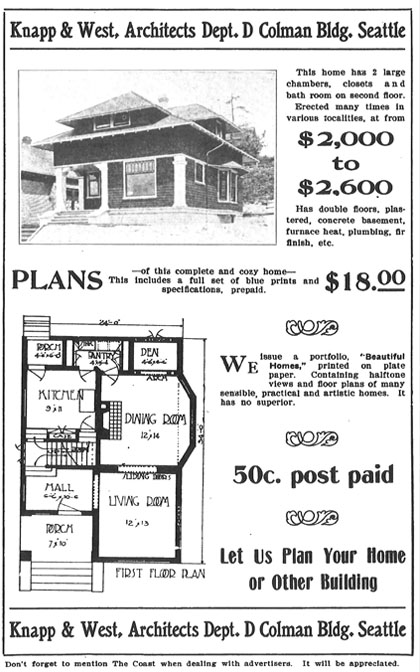 Apartment/hotel buildings include the Sunerland Flats (34th & Union, 1905); a four-story apartment house (4th & Hayes,1908); a four story apartment house at Washington & 21st Ave (1908); an apartment flat at 28th Ave. S and King Street (1909); and a six-story hotel building on Upper Pike Street (1909).
The firm's prominence on the local architectural scene is evidence by their heavy advertising in local and regional papers, which featured numerous plans and photographs of mainly residential projects by the firm. West himself contributed articles for The Coast magazine. In fact his column titled: "Architecture of the Pacific Northwest" was featured in the magazine monthly from February 1906 through May 1907. The magazine covered the cultural, natural, and built environments of the Pacific Northwest in the early part of the twentieth century and introduced their readers to West as "one of the most successful architects of the Northwest."
Like many architectural firms of the day, Knapp & West also published a plan book, which they called "Beautiful Homes". First published in 1907, the book went to at least a second printing of 10,000 copies and was found to be in the holdings of the public library in Washington, D.C. They also advertised the plan book in national magazines such as House Beautiful. The firm also reached out beyond Seattle through other publications such as the School Board Journal (1906). Such advertisement garnerned the firm additional work. A 1910 U.S. Bureau of Education brochure featured designs by the firm for a one and three-room schoolhouses. The plans note that West had initially provided the design to the Wisconsin Superintendent of Public Instruction.
For unknown reasons, West and Knapp parted ways in 1909. Knapp moved to Vancouver, BC (forming a new partnership with John T. Gamble). In 1911 West moved to Medford, Oregon. While it is unclear as to how long he stayed in Oregon, by 1918 West had moved again, this time to Tulsa City, Oklahoma.
Census records indicate that West had moved back to the Pacific Northwest by 1920, this time residing in Yakima. While he is listed as an architect, no projects by him have been identified to date within the city. By 1930 West moved again, this time to California where he remained for another 20+ years.
After living in Los Angeles, and Long Beach at various times, West passed away in Glendale, California on February 18, 1951 at the age of 72.
By Michael Houser, State Architectural Historian - Aug 2013