Bellingham architect Thornton F. Doan was a prolific architect who designed over fifty school buildings in the state of Washington by 1926. This was in addition to the numerous commercial buildings, residences, apartments, hotels, fraternal halls, churches, a roller skating rink, and industrial structures found throughout the Bellingham area.
His body of work is extensive and varied, but many of his buildings are no longer extant. In addition to the President Hotel (1926) in Mount Vernon, some of his other work include the Skagit County Courthouse in Mount Vernon (1922); a dormitory building (1921) at the State Normal School in Bellingham; Pacific College dormitory (1924) in Forest Grove, Oregon; fraternal halls such as the Elks Lodge (ca. 1912) in Anacortes and the Liberty Hall in Bellingham (1919); the Luther building (1912) in Bellingham; the Beth Israel Synagogue in Bellingham (ca. 1910); and scores of school buildings in Whatcom and Skagit counties including Silver Beach, Sunnyland, Larrabee (1920), Lowell, Harmony, Birchwood (1928), Roeder, Clearbrook, Deming, Kendall (1921), Prairie schools and the Meridian High School High School & Auditorium (1921), Anacortes High School Gymnasium (1925), and Nooksack Auditorium (1922) .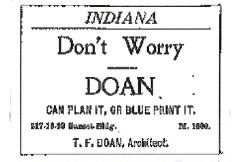 Doan also knew how to market his talent. A photograph of the Doan-designed Sedro-Woolley High School was featured in a 1911 Bellingham City Directory quarter-page ad for "T.F. Doan, Architect." His motto, used in several advertisements was, "Don't Worry, Doan Can Plan It or Blue Print It." Services offered included, "Plans, Specifications and Details for any kind of Building, ANYWHERE, ANYTIME."
Born in the village of Windfall in Tipton County, Indiana in 1866, Doan received his teaching degree from the Arkansas State Normal School, majoring in mathematics. He worked as a schoolteacher for thirteen years and also served as a high school principal (1892-1895) in De Valls Bluff, Arkansas. During his teaching years, he devoted his non-work time to the study of the art and science of architecture. He relocated to the Northwest in 1900 with his wife Lillian, and settled in Bellingham, seeking opportunities in a new profession. For three years, he worked as an engineering draftsman and designer in the office of J.J. Donovan, gaining technical and practical experience. Doan then established his own practice as an architect. He was one of the early Washington state architects who received an architect's license—no. 41, which is listed along with his name in the 1920-1921 Bellingham City Directory. Well respected by his peers, Doan was elected President of the Washinton Society of Architects in 1926.
Thornton F. Doan died in his home in Bellingham on December 19, 1930 at the age of 64, following a two-year illness.
Adapted from Presidental Hotel NR nomination - Eugenia Woo