Aberdeen architect Watson William Vernon, was born in Ohio on August 17, 1868, and came to the Grays Harbor area around 1909 via Colorado. His formal architectural education is unknown. While in Colorado, Vernon reportedly designed the Washington (1903) and Lincoln Schools (1903) in Bolder among other projects.
Upon his arrival in Aberdeen via a short stint in Boise, Idaho, Vernon first opened a practiced with fellow architect George B. Reid (Reid & Vernon) in March of 1909. Known projecvt together include a schoolhouse for south Aberdeen (1909); the A.R. Dabney House (1909); and the initial plans for the Grays' Harbor County Courthouse (1909). Controversy over the Gray Harbor Courthouse plans may have caused the partnership to disovle and by 1910 Vernon had established his own independent firm.
Among Vernon's known projects include a schoolhouse in Ocosta (1910); the Centralia High School (1912); Carnegie Library (1912) in Centralia; an Apartment at 8th & Broadway in Aberdeen (1912); the first unit of the High School in South Bend (1913); the Spanish Revival style City Hall in Montesano (1914); the Prairie style State Training School for Girls Administration Building (1914) in Rochester; and several large homes in Aberdeen, Hoquiam and Montesano including the Sam Anderson House (1913); the Daniel McGillienddy House in Aberdeen; the W. G. Hopkins country House (1913) in the logging camp of Saginaw; the W.H. Able House and the William H. France House (1912) in Montesano.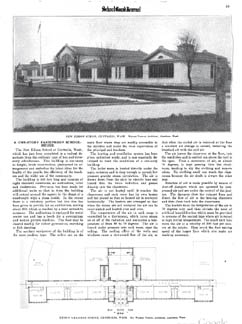 Vernon's best known project however is the Classical Revival style Gray's Harbor County Courthouse (1911). His observations of county politics led him to run for County Commissioner in the 1912 election.
Some reports also indicate he was involved in the construction of the Finch Building (1910 with Gould & Champney) and he is also listed as the architect for Immanuel Lutheran Church in Seattle (1912); the South Bend High School (1914) in South Bend; the High School (1914) in Elma; an addition to the Library (1914); the State Girl's Training School (1914) in Grand Mound; the Presbyterian Church (1914) in Centralia; the Liberty Theater in Centralia (1917); and the New Edison Elementary School (1919) in Centralia which received national press at the time of construction.
At the top of his game, Vernon was elected by his peers as Washington State Society of Architects second vice-president 1919. In 1921 Vernon's son, Lawrence R., joined the practice (renamed Vernon & Vernon). Both son and father had received their architectural license on September 13, 1919 (Lawrence R. No. 174 and Watson No. 175). Known projects together is limited to the Tuberculosis Hospital in Elma (1922).
By 1924 Vernon and his son left Aberdeen. Vernon passed away in San Diego on December 1, 1957 at the age of 89.
By Michael Houser, State Architectural Historian - Oct. 2011