Reportedly Everett architect Wesley Warren Hastings was one of the busiest architects in San Jose, California when he started his career in 1903 in the midst of one of the city's great building booms. While he had early success in his career, he moved often, never really settling into any location long enough to establish himself. Hastings spent the later part of his career in Washington State and is buried in Everett.
Born in Canada on July 27, 1881, Hastings was the oldest of six children of builder Alfred W. Hastings and his wife Myra. The Hastings family came to San Jose, California in 1889, where Alfred quickly found work. Wesley trained as an architect at the University of California so he would be able join his father in his business. At the age of twenty-two, he worked as a draftsman at the architectural firm of Wolfe & McKenzie, the best residential architects in San Jose at that time, and one for whom Alfred had acted as contractor on several projects.
In 1904, Wesley and his father went into business as A. W. Hastings & Son. The firm positioned itself as a one-stop shop where a customer could get a turnkey home designed and built for less money than their competitors. Wesley was the in-house architect. Reportedly during the first six months they were in business, the firm constructed thirty-six buildings, nearly all of them designed by Wesley. Newspaper accounts note that Alfred was one of San Jose's most prominent builders and his son, Wesley, had designed some of the prettiest homes in the city and surrounding communities.
Wesley Hastings was a prolific architect with a talent that appealed to a broad range of customers, including wealthy and influential clients such as garage owner Clarence Letcher and furniture magnate Ernest Lion. Reportedly from 1904 to 1910, Hastings designed more than 120 buildings in San Jose and its surrounding areas, many of them in San Jose's premier residential neighborhood, Naglee Park. Known projects include the F.M. Dittus House (1904); the F.W. Stanley House (1904); the Clarence Letcher House (1904); the L.J. Bohlman House (1904); the Kate Howes House (13th St, 1905); the George Rutan House (1907); the Ernest & Clara Lion House (1910); all in San Jose.
The partnership with his dad lasted until 1909, after which Wesley formed a new company with real estate developer Berdine C. Baker. The firm of Hastings & Baker lasted less than two years. To date no projects by the team have been verified.
­­­­­­­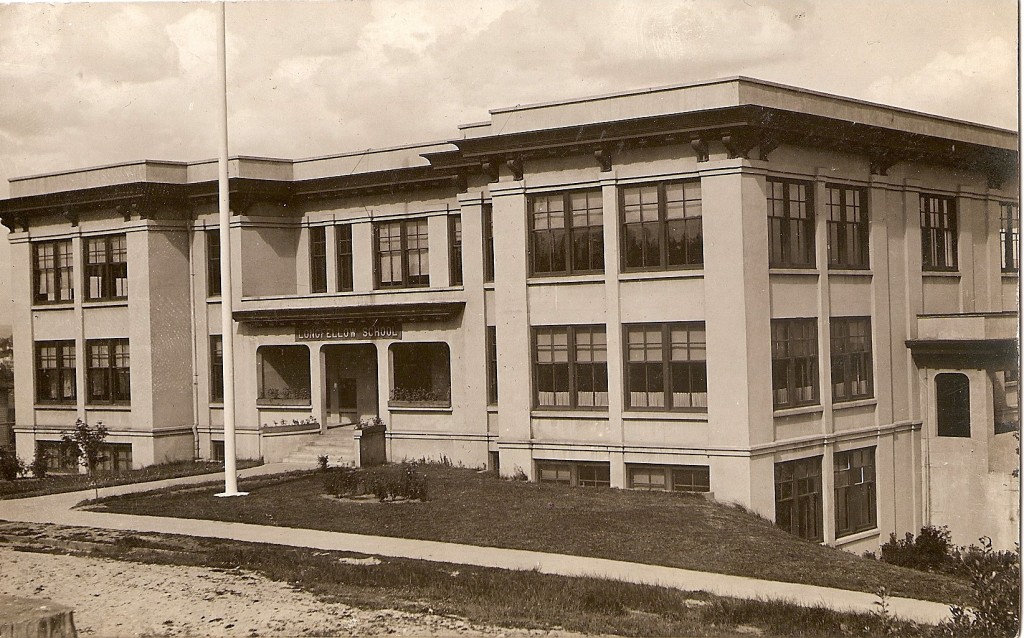 On March 9, 1909, Wesley (then age 27) married Marie "Mary" McCarthy in San Francisco. Together they had one son (Edwin Warren, 1913-1972). For reasons unknown, by 1911 the family decided to move to Everett. The city had tripled its population in the previous three years due to the demand for Northwest lumber and the prospects for work was high. The entire Hastings family soon followed.
Wesley opened an office in the Commerce Building, the largest and most prestigious building in town at the time. Reportedly he was extremely successful right away, designing many homes, commercial buildings, apartment buildings, and schools. However his known designs are limited to a handful of buildings; mainly schools. These include IOOF Lodge (1911); the W.J. Britt House (625 33rd St, 1911); the Longfellow School (Everett, 1912); a one-story concrete school (Seattle, 1915); a concrete school (Warden, 1915); and a 2-story concrete school (Everett, 1915).
Increasingly Wesley had competition in town. By 1913 the city of nearly 25,000 residents had five architects. In December of 1917 he decided to move to Tacoma. Based on an advertisement from the Carey Roofing Company, the only known project during this phase of his career was some type of commercial structure in Elma.
Reportedly, around 1916, Wesley and his wife, Mary separated. She moved back to Saratoga with their son to live with her mother and stepfather. In December of 1917 Wesley decided to move again, this time to Tacoma. Hastings WWI draft registration card, dated September 12, 1918, show him in Seattle working as a draftsman for the Seattle Building Company.
In 1920, Wesley returned to San Jose, perhaps in an effort to spend time with his son and make amends with his wife. However sometime between 1920 and 1930 they divorced.
While there he was unable to attain the success he had enjoyed in San Jose ten years earlier. During this third phase of his career he designed several relatively modest residences in San Jose, among them a home for his ex-wife Mary, her parents and his son. For a short time, he worked as an architect for the firm of Wallace & Bush in San Jose, then he formed a partnership with his younger brother T. Charles. Called the Hastings Bros., the firm acted much like the builder/designer firm of his previous years with his father.
By 1926, Wesley had moved on again, this time to Pacific Grove in Monterey County, where he formed a short-lived practice with Leslie Skow. He worked steadily on more than thirty projects between 1927 and 1931, including residences and commercial buildings alike. However, known projects are limited and include a hotel in Salinas (1930) and a home for Lucie Chase, one of Pacific Grove's most important residents. In 1931, he partnered for a time with notable Watsonville architect, A.W. Story, with whom he worked on at least ten buildings, including a pair of striking tile-roofed Spanish Revival houses for brothers Salvador and Sylvester Enea in Pacific Grove. Other specific projects are undocumented.
Research of Hastings life has left a gap in the record between 1932 to 1937. Polk directories indicate that he no longer worked with A.W. Story, and it is not known where he lived during this time period.
Records show that in 1937, Hastings moved back to Everett, where his mother and two of his siblings still lived. He reopened an office downtown, but it is unknown if he had any work. Two years later, he died, only fifty-eight years old, at the hospital in Everett, on October 10, 1939. A small obituary in the San Jose newspaper acknowledged his role in helping to create the San Jose cityscape; but the Everett paper did not mention his legacy. He is buried at the Evergreen Cemetery in Everett.
Adapted from article on Hastings by Krista Van Laan for the Preservation Action Council of San Jose (Winter 2017 newsletter)