Architect William Aitken, born September 9th, 1889 was a native of Scotland having arrived in Seattle, via Canada, in 1919. His formal education is unknown. Upon his arrival in Seattle, he acquired an architectural license (No. 4, Nov. 29, 1919) and opened an independent architectural practice (1919-62). He designed a variety of buildings and his skills of delineation are evident by the variety of architectural styles he employed during his 40+ year practice. Early projects include the Anna Wagner apartment building (1922) in Seattle; the Salem Lutheran Church (1922) in Mount Vernon; the Phoenix/Masonic Lodge (1924, 52) in Sumner; the Quinault Apartments (1925) in Seattle; the Lincoln Theater (1926) in Mount Vernon; the Harvard Crest Apartments (1926) in Seattle (1926); and the J. M. Colman Company warehouse (1930) in Seattle.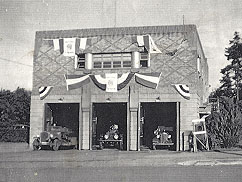 During the 1930s Aitken formed a partnership with Alfred F. Moberg. Known designs by Aitken include several projects in Port Angeles including the Sandison Bakery Building (northwest corner of 4th and Lincoln), the M & S Realty Building on Front Street, and the City Hall complex (only Fire Station built, 1931). Later projects include the Yesler Terrace Housing Project, Seattle (1939-42, with George Wellington Stoddard, J. Lister Holmes, William J. Bain, and J. T. Jacobsen); the R.C. Northfield Store (1935); the Northfield Building (1939); Lakeview School on Mercer Island (1952-53, with Bassetti & Morse); and the Norman S. Wright Company Building in Seattle (1959-60).
Aitken retired in 1960 but continued to do small projects on the side, including the Pacific Coast Coal & Oil Co. Building (1962) in Seattle. Aitken died in Seattle in April of 1961.
By Michael Houser, State Architectural Historian - Dec 2012