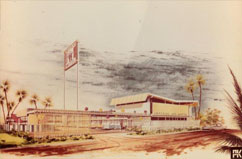 Easily spotted with its characteristic butterfly-sun flap roof, the Imperial 400 Motel chain made a significant impact on the built environment in Washington State. The Los Angeles based Imperial 400 Motel chain had taken note of the award-winning tract housing designed by Southern California architects Dan Palmer & William Krisel (P&K) and in 1959 commissioned them to design a prototype motel in Los Angeles on Sunset Blvd. Three others quickly followed in San Diego, Phoenix, and another in Los Angeles. The design concept proved so wildly successful that Imperial immediately launched a franchise campaign and began building motels with virtually the same design all across the United States.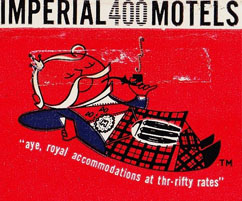 Several excellent examples can be found here in Washington State. While local architects were hired to adapt the design to fit individual site conditions, the essence of the P&K design remained the same, with the trademark butterfly roof found over the registration/manager's quarters building. The roof form was used on all of their business stationary and ephemera and the franchise adopted a logo featuring a thrifty Scotsman in a kilt with the slogan "Aye, royal accommodations at thrifty rates."
Imperial projected that they would build 179 franchised motels across the U.S. by the end of 1964 and boasted that they had opened a new location every ten days. However, they expanded too quickly and in 1965, Imperial 400 filed for Chapter 11 bankruptcy. The headquarters were moved to Englewood Cliffs, New Jersey, and again to Arlington, Virginia. In 1987, the chain was sold to Interpart S.A., a Luxembourg-based company, and was later dissolved. Many of the motels still exist under a different name and survive relatively unchanged. Be sure to check them out on your travels across the state.
WA State Examples
| | |
| --- | --- |
| Historic Postcard Image | View Today |
| | |
| Imperial 400 Motel - Walla Walla | Imperial 400 Motel - Walla Walla |
| | |
| Imperial 400 Motel - Seattle | Imperial 400 Motel - Seattle |
| | |
| Imperial 400 Motel - Wenatchee | Imperial 400 Motel - Wenatchee |
| | |
| Imperial 400 Motel - Yakima | Imperial 400 Motel - Yakima |
| | |
| Other Imperial 400 Motels across the State | |
| | |
| Imperial 400 Motel - Moses lake | Imperial 400 Motel - Everett |
| | |
| Imperial 400 Motel - SeaTac | Imperial 400 Motel - Richland |
| | |