PACIFIC NORTHWEST FIELD SCHOOL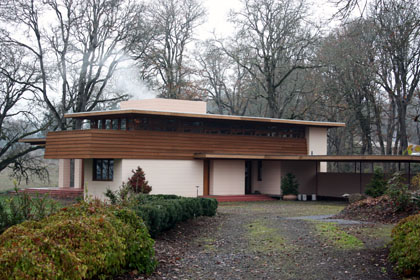 The Pacific Northwest Field School wrapped a five week program in Central Oregon. Participants in the Pacific Northwest Field School were able to apply their skills in finish carpentry on the Gordon House - one of the most significant homes in the State of Oregon. The Gordon House is a Usonian designed home and was one of the last homes Frank Lloyd Wright drafted before he died. Field School participants worked for three weeks repairing or replacing ceiling panels and custom built cabinetry which had been significantly damaged by a failed roof membrane. Participants also had the opportunity to work with the public during the five week long program while re-building wood sash windows on the Oregon State Fairgrounds Poultry building. Participants demonstrated techniques and interacted with fairgoers while learning the skills necessary to repair windows which are over 100 years old. The final week of the field school had participants working on the proper maintenance of Civilian Conservation Corps constructed log framed picnic shelters at the scenic Silver Falls State Park in Silverton Oregon.
Next summer's field school will be held near Challis, Idaho at Bayhorse State Park. Participants will have the opportunity to preserve the integrity of an old mining community with rubble wall foundations and board and batten framing. The Pacific Northwest Field School will return to Washington State in 2011. The Pacific Northwest Field School is sponsored by the University of Oregon, The National Park Service, the State Parks and State Historic Preservation Offices of Idaho, Oregon and Washington. For more information on how you can participate in a field school activity contact Russell Holter at 360-586-3533.