WOMEN'S RIGHT TO VOTE MARKS ITS 100TH ANNIVERSARY
2010 marks the 100th anniversary of when women in Washington permanently achieved the right to vote.  As the fifth state and the first in the 20th century to enact women's suffrage, the victory in 1910 in the state of Washington was a turning point in the national campaign.  The Washington Women's History Consortium (WHC), a part of the Washington State Historical Society is leading the commemoration.  Please visit our website at
www.washingtonwomenshistory.org
for more information.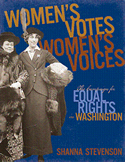 Of course, the real places where women worked for equal rights and made history in the state are vital to this story.  The Women's History Consortium encourages each community to identify, document and if possible register an important women's history site from any era in honor of the centennial of women's suffrage in Washington in 2010.  The Women's History Consortium website offers extensive information about the suffrage movement and Shanna Stevenson, Washington Women's History Consortium Coordinator can provide additional resources.  Please contact her at
sstevenson@wshs.wa.gov
or 360-586-0171.  WHC would also like to list already-registered properties in your community related to women's history.
 Sources:
 National Register Women's Historic Sites:
http://www.cr.nps.gov/nr/travel/pwwmh/index.htm
National Collaborative for Women's History Sites:
http://ncwhs.oah.org/
Publications:
Heather Huyck, "Beyond John Wayne: Using Historic Sites to Interpret Women's History," in Lillian Schliessel, Vick L. Ruiz and Janice Monk, eds., Western Women, Their Land, Their Lives, University of New Mexico Press, 1988.
Page Putnam Miller (ed), Reclaiming the Past: Landmarks of Women's History, Indiana University Press, 1992.
Lynn Sheer and Jurate Kazickas, Susan B. Anthony Slept Here: A Guide to American Women's Landmarks, Times Books, 1994.
Marion Tinling, Women Remembered: A Guide to Landmarks of Women's History in the United States, Greenwood Publishing Group, 1986.
National Collaborative for Women's History Sites, The Guide to Women's History Sites and Resources, 2009.  Order at

http://ncwhs.oah.org/

Dubrow, Gail Lee and Jennifer B. Goodman, eds., Restoring Women's History through Historic Preservation.  Johns Hopkins University Press, 2003.
Kaufman, Polly Welts and Katharine T. Corbett, eds. Her Past Around Us:  Interpreting Sites for Women's History, Krieger Publishing Company, 2003.