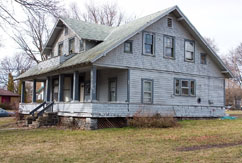 Here in Washington State, in order to streamline the review process, we have developed a series of EZ forms. This path to compliance should only be completed by project proponents that are not trained in cultural resources regulations and review requirements such as banking institutions and community service organizations. The EZ forms provide DAHP with the opportunity to catch eligible properties before effects occur. Those that are determined eligible require additional review. The goal of the review is to determine if there are any National Register eligible properties that may be affected or if there is any potential to affect archaeological sites. To make these determinations we need a brief description of the project, a map of the area, and images of any buildings over 45 years old on the site. Please use the forms below to submit the information. Currently, the EZ-2 form is the only form that is submitted electronically through Wisaard. To complete an EZ-1 you do not need to sign up for Wisaard.
Project Review Forms
EZ Forms Video Tutorial - NEW! 9/28/2017
Windows Snipping Tool Tutorial - The free snipping tool included with Microsoft Windows is useful for taking screen shots of maps to include in EZ-1 forms as described in the EZ Forms video tutorial.
EZ-1 Required for any ground disturbing activities. Not required for building renovation where there is no ground distrubance. This is a PDF form that will be emailed to DAHP. You do not need to sign up for Wisaard to complete an EZ-1.
EZ-2 Required if any buildings over 45 years old will be changed, rehabilitated etc... The EZ-2 is submitted to DAHP electronically using the Wisaard system. Please see these instructions for using Wisaard.
EZ-3 Required if a building or structure is determined eligible through the EZ-2 process. This form lets us know the scope of work so we can determine if the work is consistent with historic preservation standards. This is a PDF form that is emailed to DAHP.