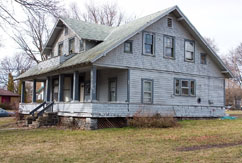 Here in Washington State, in order to streamline the review process, we have developed a series of EZ forms. This path to compliance should only be completed by project proponents that are not trained in cultural resources regulations and review requirements such as banking institutions and community service organizations. The EZ forms provide DAHP with the opportunity to catch eligible properties before effects occur. Those that are determined eligible require additional review, and in some cases, a complete cultural resources survey by a trained professional is required.
Project Review Forms
EZ Forms Video Tutorial - NEW! 9/28/2017
Windows Snipping Tool Tutorial - The free snipping tool included with Microsoft Windows is useful for taking screen shots of maps to include in EZ-1 forms as described in the EZ Forms video tutorial.