EZ Forms are only for reviews in accordance with Section 106 (HUD) and Governor's Executive Order 0505. EZ FORMS ARE NOT PART OF THE SEPA PROCESS, PLEASE DO NOT SEND EZ FORMS FOR SEPA REVIEWS. We will review the SEPA checklist when it is provided to us by the local government. We can only accept SEPA reviews from the local government, not private property owners or developers. For more information about SEPA click here.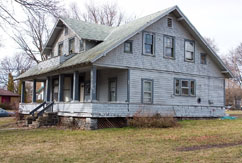 Here in Washington State, in order to streamline the review process, we have developed a series of EZ forms. This path to compliance should only be completed by project proponents that are not trained in cultural resources regulations and review requirements such as members of the public and community service organizations. The goal of the review is to determine if there are any National Register eligible properties that may be affected or if there is any potential to affect archaeological sites. To make these determinations we need a brief description of the project, a map of the area, and images of any buildings over 45 years old on the site. Please use the forms below to submit the information. Currently, the EZ-2 form is the only form that is submitted electronically through Wisaard. To complete an EZ-1 you do not need to sign up for Wisaard.
UPDATE AS OF DECEMBER 10, 2019- A new version of WISAARD was released. A new tutorial for EZ2 will be available as soon as we can get to it. EZ1 and EZ3 are emailed forms and will not change.
Project Review Forms
TIP: Before filling out the EZ-1 or EZ-3 form, SAVE the file TO YOUR COMPUTER and fill them out in Acrobat Reader. This will enable you to add images and map to the forms where needed.
1. Does your project involve any ground disturbance (fence posts, new foundation, grading etc)?
​​YES - Please complete the EZ-1 Form (pdf). (But before you do, please see Question 2 and complete the EZ-2 form first, if applicable.) We will respond to your EZ-1 submission with a letter sent via email when we have completed our review. Our response will indicate if any further consultation is required.
NO - Proceed to Question 2.
2. Does your project involve demolition, maintenance, additions, upgrades, or rehabilitation of a building or structure that is 45 years or older?
YES - Please complete an EZ-2 Form to find out if the building may be historic (eligible for the National Register of Historic Places). The EZ-2 Form is completed through Wisaard. Please see this page for information about signing up for Wisaard. Then see the video tutorial below for help with the form. When the review is complete, you will receive a notification email. Then you can go into your project and see the status, either Determined Eligible or Determined not Eligible. If it says Determined Eligible, proceed to Question 3. If is says Determined Not Eligible, no further consultation is required for the structure.
NO - You do not need to complete an EZ-2. If you have also answered NO to Question 1, no consultation with DAHP is required.
3. Was the building Determined Eligible (eligible for the National Register of HIstoric Places) on the EZ-2?
YES - Please complete the EZ-3 Form. Download it HERE (pdf) and email it to the address on the form. We will respond to your submission by email.
NO - Consultation with DAHP is complete.