1918 - 1940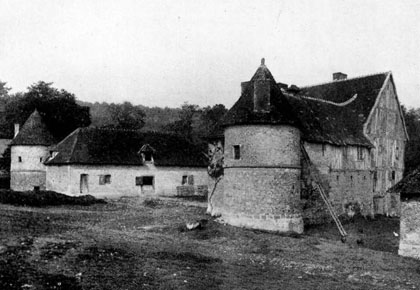 While never as popular as Colonial or Tudor Revival, there are a number of good examples of French Norman inspired structures in the Pacific Northwest. The style, like the English Tudor, is a revival style that harkens directly back to medieval European architecture. However, unlike other French inspired architecture such as the Second Empire, Beaux Arts and the Chateauesque styles, which were based on grand Parisian palaces; the French Norman style is modeled after the rural vernacular architecture of the French countryside.
The style was utilized most often in residential architecture and emerged from an increased knowledge of French architecture and an appreciation for French culture following WWI. Among the literature providing architects and builders with many models to draw design ideas from was Ralph Adams Cram's Farm Houses, Manor Houses, Minor Chateaux, Small Church in Normandy & Brittany (1917), and H.D. Eberlein's Small Manor Houses and Farmsteads in France, published in 1926; Samuel Chamberlain's Domestic Architecture in Rural France, published in 1928; and a variety of local lumber yards such as Copeland Lumber Company who provided builders with ideas and low cost plans.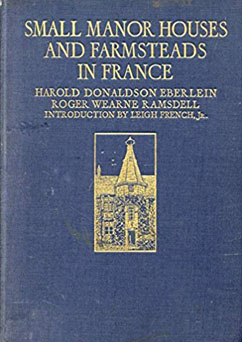 As the name implies, the style borrows its design cues directly from the Normandy region of France. In the region, barns were attached to living quarters, and grain or silage was stored in a central tower/turret. This element serves as the main character defining feature of the revival style of the nineteen twenties and thirties. The tower, most often round, could be octagonal or square in plan and is capped with a cone shaped roof. In most homes this tower serves as the main entry and inside, a convenient place for stairs. For the main portion of the home, most French Norman style dwellings rely on a side gable or steeply pitched hip roof. Some examples employ clipped gables, while others simulate thatched roofs with upturned ridges and/or rolled eaves.
Exterior walls are clad in brick, stone, stucco, shingle, or any combination thereof. Some may even utilize decorative half-timbering on a portion of the façade. The idea was to create a building that appears to have developed over time. Other features include asymmetrical placements of multi-pane windows, wall dormers with hip or shed roofs, round or segmental openings, and plank-like entry doors with large decorative wrought-iron hinges.
Washington State Examples
Dennis House
Seattle - 1926
House
Seattle - c.1938
House
Walla Walla - c.1934
Walter Winters House
Olympia - 1931
Goodwin House
Longview - 1939
Eldridge House
Bellingham - 1926
House
Everett - c.1926
House
Port Townsend - c.1929
House
Seattle - c.1932
For More Information:
Townsend, Gilbert & J. Ralph Dalzell,

How to Plan a House

. American Technical Society. Chicago, IL, 1946.
Mead, Marcia, "Homes of Character: The French Chateau"

The Small Home

. The Architects Small House Service. Minneapolis, MN, July 1930.
Sexton, Randolph W,

American County Houses of To-Day: 1930

, Architectural Book Publishing Co., NY, 1930
Chamberlain, Samuel,

Tudor Homes of England: With Some Examples From Later Periods

, Architectural Book Publishing Co., NY, 1929
Chamberlain, Samuel, Domestic Architecture in Rural France , Architectural Book Publishing Co., NY, 1928
Gowans, Alan,

The Comfortable House

, The MIT Press, Cambridge, MA, 1987.
Baker, John M.,

American House Styles: A Consise Guide

W.W. Norton & Co., New York, NY, 1994.
Massey, James & Shirley Maxwell,

House Styles in American: The Old-House Journal Guide to the Architecture of American Homes

Penguin Books, New York, NY, 1996.
Walker, Lester,

American Homes: An Illustrated Encyclopedia of Domestic Architecture

, The Overlook Press., New York, NY 1981.