1960 - 1985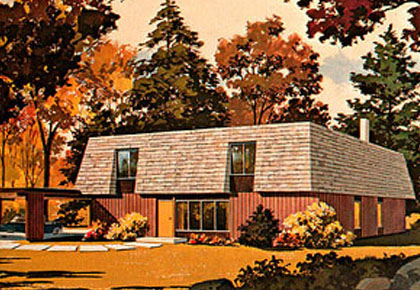 Named after its distinctive roofline, the Mansard style is a re-interpretation of the Second Empire style, which was popular a century earlier. The newer Mansard style emerged from French Eclectic style of the 1930s and 1940s. In fact, some examples have a distinct French flavor with flared eaves as well as segmented/round topped doors and windows. The Mansard style, was sometimes referred to in period literature as "French Provincial". Examples of the style can be found on a variety of building types including single-family residences, duplexes and apartment complexes, office buildings, restaurants, medical facilities and gas stations. Among the popular use of the Mansard style was to update downtown commercial buildings. The large mass of the roof could easily be utilized to conceal out-of-fashion architectural elements on the upper façade of buildings, hence giving them a new "modern" appearance.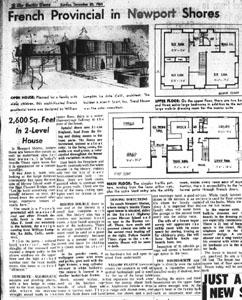 In the post WWII era many subdivisions utilized deed restrictions and zoning ordinances that dictated one-story structures and/or low roof heights. The Mansard style could follow many of these regulations while still providing for a two-story home. Architect John Elgin Woolf helped popularize the style with his Los Angeles area homes for numerous Hollywood movie stars. His designs, often called "Hollywood Regency", were embraced by those who yearned for a traditional formality. Many of his homes were featured in period shelter magazines such as Better Homes & Gardens and House Beautiful.
Mansard style buildings of the 1960s and 1970s are typically two stories in height, although one story versions can be found. The second story is "hidden" by a steeply sloped "mansard" style roof that extends to the top of the first floor. Often, the roof is punctured by dormers or inset balconies. The dormers come in a variety of shapes and sizes, many of which have a segmental or arched roof. Behind the mansard, is a flat or nearly flat roof. Utilized on larger buildings, this space offers a convenient area to hide mechanical equipment. Many Mansard style structures have deeply recessed entries, aluminum sliding windows and prominent garages or carports. The mansard roof themselves are commonly clad with cedar shingles but three-tab asphalt shingles, clay tiles, and standing seam metal can be found. The first floor can also be clad in a variety of materials including brick, clapboard, stone, T-1-11 siding, and stucco. The Mansard style reached the zenith of its popularity in the late 1970s.
Washington State Examples
Apartments
Vancouver, c.1978
Tacoma Community College
Tacoma, c.1973
House
Kent, c.1965
Office Building
Othello, c.1975
House
Port Angeles, c.1978
House
Bellevue, 1966
House
Olympia, c.1967
Apartments
Yakima, c.1974
Fuller & Fuller Law Office
Tumwater, c.1975
For More Information:
"First of Four Buildings: 29-Unit Greenwood Ave. Apartment to Open"

The Seattle Times

, December 3, 1967.
"Edmonds Apartment on View"

The Seattle Times

, October 15, 1967.
"Meadowbrook to Open Nov.1"

The Seattle Times

, May 14, 1967.
"Convalescent Center in Ballard"

The Seattle Times

, May 2, 1965.
Baker, John M.,

American House Styles: A Concise Guide

. W.W. Norton & Co., New York, NY, 1994.

250 Home Plans For Todays Living

: Designs by William G. Chirgotis. Creative Homes Press, Passaic, NJ, 1983.
McAlister, Virginia,

Field Guide to American Houses

. Alfred A. Knopf., New York, NY, 2013.
"Selected Post-World War II Residential Architectural Styles and Building Types". Colorado SHPO, 2006.
Langdon, Philip. Orange Roofs,

Golden Arches: The Architecture of American Chain Resturants

. New York: Knopf, 1986.
"Fontanelle - Model Home of 1969" brochure, Olympia, WA 1969.
"Modules Used for Church", The Seattle Times, November 10, 1968.
"Olympia's Model Home of 1969" , Seattle Post-Intelligencer, June 14, 1970.