1945-1990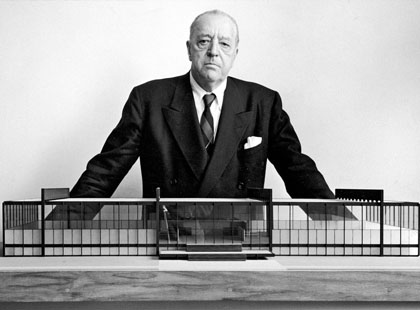 Miesian is a term used to describe architecture that was inspired by or built in the style of the prominent and vastly influential 20th Century architect Ludwig Mies van der Rohe. A native of Germany, Mies van der Rohe immigrated to the United States in 1937. Originally associated with the Bauhaus movement in Europe, Mies went on to innovate post WWII architecture so much that he pioneered his own eponymous style. His designs influenced a range of building types, from single story dwellings, to small and large scale commercial buildings.
Although his early work was largely Neo-Classical in style, Mies began to establish himself as a forward thinking modernist in the early 1920s. By the time his world-famous Barcelona Pavilion was constructed in 1928, Mies had risen to the upper echelons of European modernism. In 1930 has was appointed director of the Bauhaus design school is Dessau and served as its director until it was closed by Nazi authorities in 1932.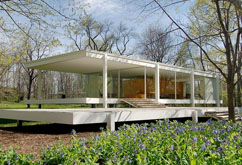 The Nazi regime also stymied Mies architectural practice and he received few commissions throughout the 1930s. Nazi ideology had deemed most modern art and architecture "degenerate" and all but prohibited its realization. As such Mies soon realized that he needed to leave Germany, if not for his own personal safety, then at least to practice architecture. By 1937 opportunities had arisen in America, and Mies immigrated in an effort to revive his career. In 1938 he accepted a position as head of the Department of Architecture at the Illinois Institute of Technology (IIT), with the idea of making it the premier school in the country. Mies developed the campus plan at IIT and eventually designed nineteen buildings on campus.
Although few architects knew much about his architecture before his arrival in the United States, his postwar designs and teachings at IIT significantly influenced nationwide architectural design during the 1950s and 60s. His designs for the Farnsworth House (1950); 860-880 Lake Shore Drive Apartments (1951); IIT's Crown Hall (1956); and the Seagram Building (1958) set precedents for structural clarity, simplicity, and the expression of technology in architecture.
This influence is known as the Miesian style of modern architecture. Many of Mies's students at IIT and associates in his practice went onto successful careers in the booming postwar era. Most adopted the Miesian style, as did many other architects. Businessman and developers were easy converts, given that the simplicity of the style usually meant lower costs. Unfortunately, few architects practicing in the style matched the skill and artistry of Mies. More often than not, their buildings looked a bit stark and uninspiring compared to the subtle qualities of scale, proportion and massing found in Mies's work.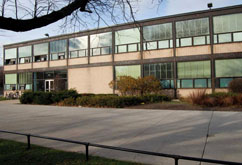 Despite the failings of some of his followers, the Miesian style proliferated and now can be found in almost every community throughout the United States. The term "Miesian" as a design idiom began to be used shortly after his death and has been found in marketing materials here in Washington State as early as 1972. However reference to his aesthetic, dates to as early as the late 1950s when marketers noted residential designs for sale in the Seattle area with the "sophisticated simplicity stemming from the Mies van der Rohe school of contemporary design." Helping to promote his work and design ideas in the far reaches of the Pacific Northwest, was the Henry Art Gallery at the University of Washington which hosted a Museum of Modern Art traveling exhibit of Mies's photographs, plans, and renderings in 1950. Several documentary television shows during the early 1960s also brought Mies's work to the forefront of the American public.
Miesian architecture reflects the rationalist tendencies expressed in Mies van der Rohe's work with his motto of "less is more." The style is reflected in two sub-types: multi-story high-rise buildings, and small-scale commercial and residential structures. While it was always Mies' intent that his approach and vocabulary be put to wider use, the most successful examples came from large firms staffed with devoted and knowledgeable designers, some former pupils others employees from his firm who branched off on their own. Generally examples here in the Pacific Northwest tend to be simplified versions of Mies's designs, many just borrowing elements of the style to capture a mood or feeling.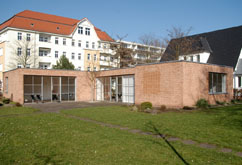 High-rise buildings are characterized by their grid-like, exposed steel-frame exterior, and utilized curtain wall construction to create a precise rectangular form. The ground story of the building is often set back behind a series of steel piers, which often creates a visual effect of the building "floating" above its site. In some the grid of the frame is frankly expressed, while in others, verticality is stressed with I-beams or "fins" rising uninterrupted through the upper stories. Outside stairs are broad and temple like; sometimes they are given a floating effect through the omission of the risers. A typical Miesian type of roof consists of a slab hung from external beams supported only at the sides.
Small-scale buildings range widely in design details but are still governed by Mies's use of structure. Inspiration stems from two sets of design details such as those found on the Barcelona Pavilion, Mededith Hall at Drake Univeristy and the Farnsworth House with their use of floating plans and transparency; to the Lemke House and the IIT Campus, where solid walls are defined by a ridged system of an exposed structure.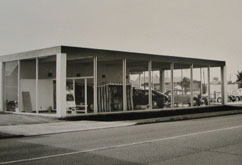 In most Miesian buildings the rigid grid is articulated with wood, brick or concrete, however, here in the Pacific Northwest, a surprising number of exposed steel examples can be found. Between these members are large uninterrupted plates of glass typically spanning from floor to ceiling on commercial buildings, or bands of rectangular windows on residential versions. Some examples pull the exterior wall back from the grid in order to leave an open walkway or floating frame. Other structures bend more towards the design of Mies's Barcelona Pavilion utilizing large expanses of flat wall planes, often articulated in brick or stone, which form walls that extend outward and upward from the main body of the structure.
Roofs are flat slabs, typically with enclosed structural members and feature little to no overhang unless incorporating a covered entry or utilization as a sunshade. Below the roof plane, many Pacific Northwest examples utilized exposed wooden beams.
Builders referred to the Miesian style as the "horizontal look" where designs emphasized shadow lines that could be created by the use of a continuous foundation; sometimes recessed to create a look of a floating cantilevered structure (a la the Farnsworth House), other times flesh with the exterior walls to anchor the building solidly to the ground (a la the Lemke House, Mededith Hall, Carr Memorial Chapel, and ITT Campus).
Miesian interior spaces are usually left open with few constraints on how they could be used, creating what Mies called "universal space" i.e. adaptable spaces. On the residential side, the style took a big blow when the editor of House Beautiful, Elizabeth Gordon, wrote a scathing editorial about the Farnsworth House called "The Threat to the Next America." Quickly, the style fell out of favor for mainstream American households, but it remained popular as a commercial style into the 1970s. Examples however can found as late as the 1990.
WA State Examples:
Garden Crypts Mausoleum
Spokane, 1959
First Church of Christ
Spokane, 1967
Graham Pharmacy
Bellingham, 1957
Momoda House
Mercer Island, 1959
Steinhart, Theriault & Anderson Office
Seattle, 1956
Ferris House II
Spokane, 1954
Bank
Walla Walla, c. 1960
Patashnik House
Kirkland, 1959
Hogan House
Edgewood, 1964
For More Information:
Mies van der Rohe Society - http://miessociety.org
"The Horizontal Look" – House & Home, July 1952.
Advertisement - "HB: The Artist Bachelor or Bachelorette" – Seattle Times, April 30, 1958.
"Architectural Work on Exhibit at Henry Gallery" – Seattle Times, April 2, 1950.
"Noted Architect is Subject of New Series on 9" – Seattle Times, May 21, 1961.
"31 Named to Receive Top Civilian Medal" – Seattle Times, July 5, 1963.
Advertisement – Del-Teet, "The Classic Barcelona Chair…"
Advertisement - "Buccaneer Contemporary" – Seattle Times, April 20, 1958.
"Buildings Must Reflect Essence of Civilization, Says Architect" – Seattle Times, July 28, 1968.
"A Universal Space with Worldwide Appeal: Mies van der Rohe's Crown Hall" – Historic Illinois, December 2001.
"A Puget Sound Home" Seattle Times, March 2, 1947.
"The Threat to the Next America" House Beautiful, April 1953. Vol. 95, No. 4.
Advertisement - "Trend: Today's Modern Home" – Seattle Times, June 12, 1960.
Farnsworth House - http://farnsworthhouse.org
Whiffen, Marcus & Frederick Koeper American Architecture, Vol 2: 1860-1976. MIT Press 1984