1941 - 1960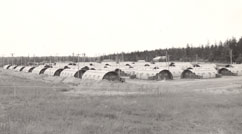 Simple to manufacture and easy to assemble, the Quonset Hut is an easily recognizable architectural form. The building was designed in 1941 by a team of engineers at Quonset Point Naval Air Station in Rhode Island, hence the name. With American preparing for the possibility of war, the Navy had approached the George A. Fuller Company to design a prefabricated, portable structure that could be shipped in pieces to faraway military outposts. The structure had to be able to be set up quickly by untrained personnel and had to serve a variety of purposes. Reportedly a team of ten could build a typical twenty-foot Quonset hut in one day.
The basic Quonset Hut came with multiple pieces of curved steel ribs for the frame; a one-inch tongue-and-groove plywood floor; wood fiber insulation between an outer shell of corrugated metal and an inner lining of Masonite; plus doors, windows and a chimney. Demand for the prefabricated structure by the various military branches was high, and the Fuller Company couldn't build them fast enough. As a result the Navy let out another contract to the Stran-Steel Company, who improved upon the design and soon took over a bulk of the production.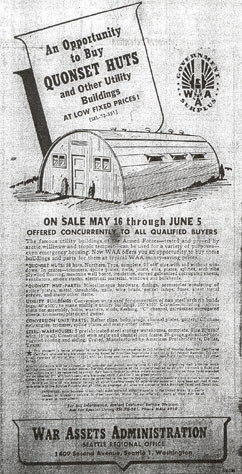 By the end of WWII, an estimated 150,000 units had been built around the world. Designed to serve 86 official uses, two basic sizes were offered: the 20 and the 40. The 20 measured twenty feet by forty-eight feet, while the 40 (also called the "Elephant Hut") stood forty feet wide by one-hundred feet long.
By the end of 1941, other companies began developing their own versions of the Quonset Hut. Some, like the Butler and Cowin Companies, developed Quonset-type structures to sell to the Army or anyone else who wanted to buy them. Others created hut designs in response to special needs, such as the wooden Pacific Hut (built in Seattle), and the Emkay Hut (built in Boise), which were created to save metal resources. The Seattle based Pacific Hut Inc. had an initial one million dollar contact with the U.S. Army to deliver 1,000 units. The heavy-steel Armco Hut was intended for ordnance storage and air raid shelters, and the Jamesway Hut was designed for even quicker assembly in cold Arctic regions.
After World War II, a number of surplus Quonset huts found there way into civilian life for use in both residential, commercial and agricultural applications. Additionally a few of the companies continued to make and sell versions of the Quonset Hut. The Stran-Steel Company set up dealers all across the country to promote a variety of uses for the huts including use as a single family home or as an agricultural outbuilding. However, despite the low cost, some as little as $1.50 a sq. ft., the Quonset Hut never became as popular as stick built structures.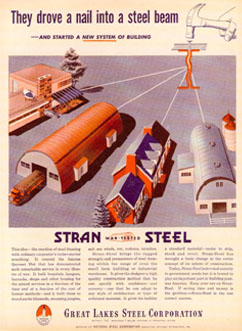 Immediately after the war, many were being used as temporary spaces on college campuses, and a variety of federal agencies such as the Bureau of Reclamation, used the Quonset hut to meet postwar building demands. However, the Quonset hut quickly fell out of favor. Not only did they remind veterans too much of service life, but the Quonset 20, with just 960 sq.ft. of floor space (a good part of it was unusable due to the slopping sides) was too small to serve as a family home, or commercial application. Reportedly, the Quonset hut did work well for other uses. Stran-Steel issued a press lease in late 1946 which listed 257 adaptations. Uses included housing at Universities, hay barns for farmers, smaller models for milking sheds and storage, repair shops, and other small businesses, as well as use as temporary churches and Sunday school space.
Many Quonset hut's round shoulders are hidden behind false fronts. Their exteriors can have horizontal or vertical sheets of metal (depending on the model), and the ends can be clad in just about any material and configured with a variety of doors and windows. Today scattered across the State you will find just a handful of Quonset huts most being used for agricultural purposes, repair shops and small business shops. Others can be found on our State's military bases, but these are quickly disappearing.
Washington State Examples
Canteen - VA Hospital
American Lake, 1946
Poier Motors
Snohomish, 1955
House
Lacey, c.1950
Alrich Farm
Walla Walla, c.1953
Machine Shop
Port Townsend, c.1950
Commerical Bldg
Seattle, c. 1950
VFW Hall
McCleary, c.1952
Grays Harbor County PUD
Copalis Crossing, c.1960
Machine Shop
Brush Prarie, c.1957

For More Information:
"The Instant Building " Invention & Technology Mag. Winter 1998.
Chiei, Chris & Julie Decker, The Quonset Hut: Metal Living for a Modern Age , Princeton Architectural Press, Cambridge NY. 2005.
"Hutmakers Extraordinary" Time March 22, 1943.
"Here's One Answer to Housing Problem" Tacoma News Tribune, January 6, 1946.
"Driverless Auto Plunges 25 Feet Off Bank Into Quonset-Hut Home" Seattle Times, July 6, 1949.
"Church in Hut Gains Fame" Seattle Times, March 30, 1947.