1965 - 1985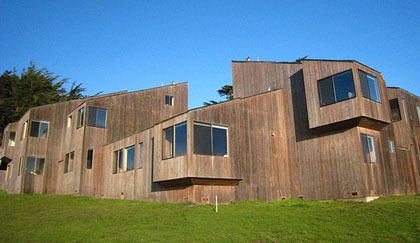 The Shed Style is easily identified by its juxtaposition of boxlike forms capped with single-sloped shed roofs facing a variety of directions. The style spread quickly through the United States after the construction of the Sea Ranch Lodge condominium complex in Sonoma County, California in 1965. Shortly thereafter many shelter magazines began to feature the new style, spreading from the west coast to the east coast. Here in the Pacific Northwest the style was touted as a contemporary design appropriate for Northwest living and many builder examples were built due to its ease of construction. The use of the style in the 1970s also coincided with the energy crisis and some of the better examples employ passive-solar design elements. These features include south facing windows at the roofline (clerestory windows) paired with interior elements such as brick floors or rock walls which could collect and store heat, thus saving energy costs. The Washington National Gas Company sponsored tours of solar homes for several years begining in 1977. Most of the homes featured in the tour utilized Shed Style designs.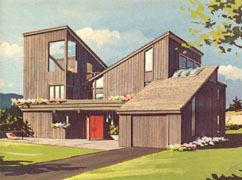 Exterior walls are usually covered with flush board siding, applied horizontally, vertically, or even diagonally to follow the lines of the shed roof. Builder examples often used T1-11 siding, while high style examples are clad with cedar shingles. The junctions of the roofs and walls are smooth and simple, with little or no overhang. Most Shed Style buildings are 1 to 1½ stories tall. Entrances are often recessed and obscured from the street and windows tend to be a variety of sizes and shapes. Long narrow windows installed vertically or horizontally are common, as well as windows that are angled to follow the slope of the roof line.
The style's popularity peaked in the early 1980s, when it was commonly used for houses, apartment complexes, vacation cottages, schools and small office buildings. By the end 1980s, the use of the style in urban areas dwindled, mainly due to the high maintenance requirements of the wooden exteriors and changes in architectural tastes.
Washington State Examples
House
Mercer Island, c.1975
Strip Commercial Block
Spokane, c.1983
J Street Medical Clinic
Tacoma, 1975
Glacier Lanes Bowling Alley
Everett, c.1978
House
Tacoma, c.1980
House
Olympia, c.1978
House
Seattle, c.1985
House
Spokane, c.1978
House
Kennewick, c.1983

For More Information:
House & Garden Plans

. Quick Fox. New York, NY. 1978
Baker, John M.,

American House Styles: A Concise Guide

. W.W. Norton & Co. New York, NY. 1994

250 Home Plans For Todays Living

: Designs by William G. Chirgotis. Creative Homes Press, Passaic, NJ, 1983.
McAlister, Virginia,

Field Guide to American Houses

. Alfred A. Knopf., New York, NY, 2013.