Born in Chicago, Illinois in 1891, Albert A. Geiser came to Seattle in 1907 at the age of 16. His formal architectural training is unknown, however he gained practical on-the-job experience by working for variety of architects including Elmer E. Green (1909), Julian F. Everett (1910-11), and Herbert B. Pearce (1912, 1917-18). Spanning the years 1913-14, Geiser was employed by the Long Building Company.
Records indicate that he opened his own practice in 1919 after receiving his State Architectural license (September 24, 1919, No. 58). Early projects by Geiser are unknown, but by the mid to late 1920s he garnered a considerable amount of press, mainly in the form of his apartment designs.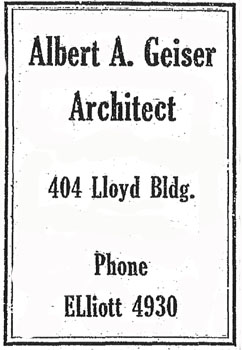 Known apartments include the Edgar Court Apartments (1925); the Blackstone Apartments (1927); the Kingsbury Apartments (1928); the Dapne Apartments, Seattle (1928); the Fairhome Apartments (1928); Ella Robert Apartments (1928); the Park Lane Apartments (1931); the George Raymond Apartments (1929); and a three-story apartment for Albert Silver at 605 Boylston (1932).
Amidst the frenzy of apartment construction, it was Geiser whom is largely responsible for the charming old world Tudoresque qualities of the Montlake Neighborhood in Seattle. Developers M.M. Kelliher and R.L. Brackett hired Gieser to design a unique collection of twenty-seven different brick homes. Touted as the largest collection of brick residences in Northwest at the time of their construction in 1928, the project received wide media attention and garnered Geiser additional work. This included a cluster of seven brick houses for builder R.P. Hemmingsen at 16th & Lynn Street (1929); the C. G. Morrison Company Model House (1931); and custom homes for Orin & Mary Brooks (1930); and Gunder & Olga Birkland (1937); and D.C. Rhysburger (1941);
Geiser's only known non-residential design was the Laurel Beach Sanatorium (1931). While a majority of Geiser designs were executed in the Tudor Revival style, Geiser demonsrated his skills as a delineator on several Colonial Revival projects during the 1930s. This included a featured article in the Seattle Times showing how to transform on out-of-date Colonial Bungalow into an attractive brick Cape Cod (1876 Hamlin Street, 1932).
Geiser died in Seattle on May 4, 1956 at the age of 64.
By Michael Houser, State Architectural Historian - June 2013