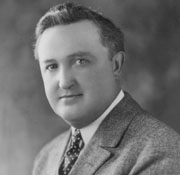 Bibliography:
"Washington: Davenport, Washington…Plans have been completed by Archibald G. Rigg…" Engineering & Contracting – April 28, 1915
"Death Takes Architect, 80, At His Home." Spokesman-Review, 19 Feb 1959
History of the City of Spokane and Spokane County – S.J. Clarke Publishing Co. 1912
"No American Architecture" The Ohio Architect Engineer & Builder, Vol. XVIII, July 1911.
U.S. Census Records – 1910
Symons Block Spokane Register Nomination, Sally Reynolds, 1995
WSU Buildings History - http://www.wsulibs.wsu.edu/masc/university-archives/buildings-history
"Courthouse Will Get Clock Sooner or Later" The Spokesman Review: August 2, 1945.
"School Project Plans Approved" The Spokesman Review: August 10, 1951.
"20 Years Ago Today" The Spokesman Review: January 29, 1937.
"St. Luke's Engages Architect Rigg" The Spokesman Review: January 29, 1917.
"Grand Coulee Contract is Let" The Spokesman Review: January 9, 1952.
"$75,000 Addition Planned for Riverside Mausoleum" The Spokesman Review: April 18, 1954.
Polk Directories: 1917-1958
KFPY Radio – http://spokane.radiotowers.info/kxly/index.php
"Downriver Park Plans" The Spokesman Review: April 2, 1916.
"Proposed Salvation Army Central Service Building for Spokane" The Spokesman Review: August 25, 1919.
"No American Architecture" The Ohio Architect Engineer & Builder: Vol. XVIII, July 1911.
"Payette Chosen Site of Hospital" Idaho Statesman: January 23, 1921.
"Spokane Post Office Architects Named" Seattle Daily Times: March 3, 1933.
"The Tidball Block, at 410 Riverside…." Domestic Engineering: February 24, 1917.
"Archibald Rigg, Architect, Spokane…" The Bridgemen's Magazine: Vol. 14, 1914.
"Will Double Capacity" Hospital Management: Vol. 7, 1919.
Spokane architect Archibald Grant Rigg had a long and prolific career in the Inland Northwest. He was born in Stratford, Ontario, Canada on April 5,1878 and received his formal education from Trinity College in Toronto, and Columbia University in New York. Reports indicate that Rigg gained further training under noted architect James Balfour in Hamilton, Canada.
Upon graduation Rigg took a job in Danville, Illinois where he formed a partnership with a Mr. Lewis. Under the name Lewis & Rigg, the firm designed several notable buildings including a home for Illinois Speaker of the House, Joe Cannon. Reportedly the firm designed "vast amounts of work in Danville" however at this time additional projects are unknown.
Due to health concerns, Rigg moved west, landing in Spokane where some reports indicate he became the head draftsman for the architectural firm of Cutter & Malmgren (1904-1905). His time in the west however was short-lived and around 1906, he was called back to east to Indianapolis to take care of his ill father.
While there he worked for architects Herbert Foltz and Wilson Parker. At the time, the firm was busy conducting a large amount for the State of Indiana, which gave Rigg additional experience and insight on how to handle large government projects. Projects by Foltz & Parker during his time in Indianapolis included several structures at the Indiana State Insane Asylum; the First Christian Church of Indianapolis; the J. A Sutherland House (1907); the Harry W. Long House (1907); the Senator Beveridge House; and the Indianapolis County Club (1910).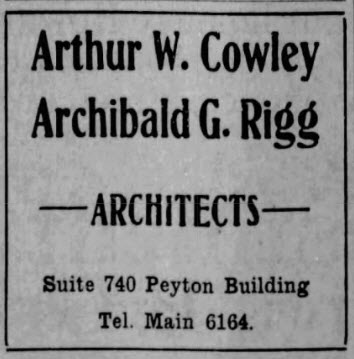 In 1910, he returned to Spokane and formed a partnership with Arthur W. Cowley. They made a specialty of designing apartment houses. Projects include the Wellington Apartments; the Altedenia Apartments (c.1912); the Garry Apartments; the Buckman Apartments; and the Close-In Apartments. Other projects included the Gandy/Willard Hotel (1911); the Spokane Taxicab Garage (c.1912); and a variety of homes for several of Spokane's most prominent citizens.
Business was going well for the firm and they opened a second office in Edmonton, Canada in 1912. In that city they designed several buildings including the Gibson Block (1913); Vardon's Auto Garage (1913); the Roberts and Helgler Blocks (1914); and the Annamore's Mansion (1914).
By 1914 Cowley and Rigg had parted ways and Rigg formed a private independent practice (1914-1919). His projects during this time period included the Spokane County Tuberculosis Sanitarium (1914); a School in Davenport (1915); St. Luke's Hospital and attached wings (1917-1919), the Downriver Club House (1916); the Symons Building (1917); a remodel of the Tidball Block (1917); the Robert Grinnell House; the Dr. Cunningham House; and the Dr. Charles & Edith Rigg House (1914).
In 1919 he entered into a new partnered with Roland M. Van Tyne. The new partnership may have been formed to take on the work of designing over 50 buildings at Greene Park Amusement Park in Tacoma for the U.S. Army. For the Greene Park development, Rigg & Vantyne opened an office in Tacoma to coordinate the firm's designs with local contractors, Pratt & Watson. Their most notable design at the Park was the the Red Shield Inn (1919); a Swiss Chalet inspired structure which now serves at a military museum for Joint Base Lewis-McChord.
It was during this time that Rigg received his architect's license - #220, on March 17, 1920. He was part of a large group of individuals whom were grandfathered in when the State began requiring architectural licenses in 1919.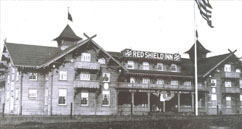 Other projects back in the Spokane area included the Salvation Army Headquarters Building (1921); Hutton Elementary School (1921); the Masonic Temple and subsequent enlargements; the Idaho State Tuberculosis Sanitarium (1922) in Payette, ID; the US Post Office (1933, with G. Albin Pherson); the Science Hall/Abelson Hall (1935) at WSU; KFPY Radio Station Building (1936); and Shriner's Hospital for Crippled Children (1938).
When Roland passed away suddenly in 1938, Rigg continued the firm. Projects during this phase of his career included the Engineering Laboratory Building (1942) at WSU Pullman; the Edgecliff Tuberculosis Sanatorium; the Riverside Mausoleum (1954); Cheney & Harriet Cowles Library at Whitworth College, Additions to Emerson and Columbia Schools (1951); and City Light Building (1952) in Grand Coulee.
Eventually Roland Van Tyne son, Carl, was named partner in 1957 after previously serving as an associate (1950-1957). The name of the firm was then changed back to Rigg & Van Tyne. Projects during this later period include the Greenwood Garden Crypts Mausoleum (1957); the Roundup Grocery Warehouse in Walla Walla (1958); an addition and alterations to St. Luke's Hospital (1959); and an addition to a Jr. High School in Libby, MT (1960).
Over the course of his 50+ year practice, Rigg designed hundreds of buildings in a wide range of architectural styles spanning from the Revival period of the teens and twenties and into the post WWII era.
Rigg and his wife, Mayme Ethel Beck, were socially active and prominent members of Spokane's society. Together they had one daughter, Marian Beck. Rigg was a Mason in Oriental Lodge Number 74, and was a member of several social and professional organizations, including the Scottish Rite, El Katif Shrine, the Spokane Chamber of Commerce, the Spokane Amateur Athletic Club, the Inland Club, the Rotary Club, the Spokane Society of Architects, and the Spokane Chapter of the AIA where he served as chapter Vice President in 1931.
Rigg passed away in Spokane at the age of 80 on February 18, 1959.
By Michael Houser, State Architectural Historian - Nov. 2014