Born February 19, 1879 in England, Arnott Woodroofe had a long and distinguished architectural career in Washington State that spanned both sides of the state and a 50 year time period. Reportedly he attended courses at the Architectural Association and the Regens Street Polytechnical School in London ebfore working for noted Arts & Crafts architect Ralph Neville. Reports indicate that Woodroofe was a member of the Royal Institute of British Architects, and came to North America thorugh Canada around 1898.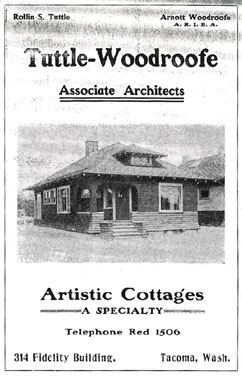 By 1904 he migrated to Tacoma and became the head draftsman for the architectural firm of Russell & Babcock. For reasons unknown, in 1906, Woodroofe left the firm and started his own company with fellow architect Rollin S. Tuttle. Together the firm, Tuttle & Woodroofe received many residential commissions and a lot of press. Numerous articles on their various designs appeared in local, regional and national magazines. They specialized in Craftsman style bungalows and advertised their "Artistic Cottages" as far away as Aberdeen.
After buying out Tuttle, Woodroofe promoted his draftsman, Arnold S. Constable, to partner in 1908. Together, they continued to strongly advocate for the new craftsman style aesthetic. A fellow Brit, the two had familiarity with the aesthetics of Ruskin, the designs of Morris & Ashbee, and the architecture of Prior, Voysey, Baillie Scott, and MacIntosh. Documented designs include over 60 dwellings such as the home of E.R. Wheeler (1907); the Mary Rogers House (1908); the McNulty House (1909); the Orlisus Elliott House (1908); and the Swaine Apartments (1913).
In 1913 Constable left the firm and took a job with the Beezer Brothers in Seattle. By 1916 Woodroofe had taken on new partners, Jack DeForest Griffin and Irwyn Hill. However, after just three short years he left the firm and moved to Spokane in 1919.
Little is known of Woodroofe's projects in Spokane, but he continued to practice until the mid 1950s. Known projects include the LeMaster House (1940) and the Loma Vista Baptist Church (1955) in Spokane; a brick and terra cotta Farmers State Bank in Coulee City; and several residences in Valleyford. Polk directories indicate Woodroofe moved to Walla Walla for a short time (1929-30), but returned to Spokane after a couple of short years. His only know project in the city is the First Congregational Church (1931).
Woodroofe passed away in Spokane at the age of 97, in June of 1976.
By Michael Houser, State Architectural Historian - Nov. 2011