Born in Troy, Idaho on August 15, 1906, Tennys Frances Bellamy received his formal architectural education at the University of Washington graduating in 1928 with a BA in architecture. He left Seattle an attended Yale where he was awarded a BA in Fine Arts in 1930. Bellamy's practical experience included working in Boston, MA for several years for a variety of architectural firms. He then returned to Seattle where he worked for several architects including Ellsworth Story, and the architectural firms of Schack, Young & Meyers, and Grainger & Thomas. After receiving his architectural license in December of 1934, he opened his own independent practice. By 1937 he joined the staff of developer Hugh Russell, serving as his "in-house architect" for the Blue Ridge neighborhood for several years.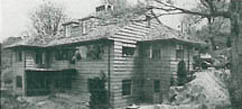 Among his more noteworthy projects are a variety of Safeway Stores throughout the Pacific Northwest. His resume notes that he designed 40 stores for the company prior to 1950. After 1950, he designed Safeway stores in Centralia, Port Angles, Kent, Seattle and Bellingham. Other work by Bellamy includes: the Snoqualmie Lodge (1948) for the Mountaineers Club, Standard Service Tire Co. (1948) in Seattle, the Theatre School of Dance (1952, 57), Westgate Shopping Mall (1955) in Edmonds, the Haven Hall Mausoleum in Anacortes (1957), and a variety of residential properties.
Bellamy was a charter member of the Society of American Registered Architect, by whom he was awarded the Gregson Leadership Award in 1963. He was also one of twelve architects asked to conduct a conditions assessment on the U.S. Capitol Building in 1969. Bellamy passed away in Seattle in May 1974.
By Michael Houser, State Architectural Historian