1950 - 1990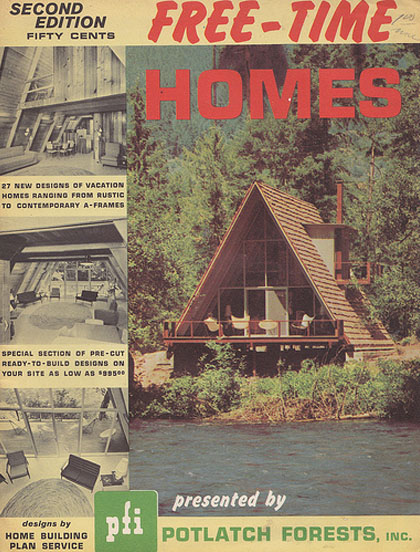 Appearing in the early 1950s, the A-frame ascent to popularity coincided with an economic expansion that brought vacation homes to within the reach of a rapidly expanding middle class. Advertised as affordable and aesthetically refreshing, the A-frame was presented initially as an exciting second-home option for those desiring a weekend retreat from city life. Stylistically it also provided an exotic architectural alternative to a traditional primary dwelling. With its playful informality, unconventional roof shape, open floor plan, and unusual glazing configurations, the A-frame design was an accessible modernism, more likely found in the pages of Better Homes & Gardens and Popular Mechanics than in the "official" architectural press. It's popularity spread quickly in during the late 1950's and early 60's, when hundreds of plan books and articles touted the benefits of A-frame designs. Reportedly, the 600 to 1,000 sq. ft. designs kept construction costs low (typically $10 per sq ft) and their simple construction made A-Frames an ideal project for "Do-it-Yourself" craftsmen who measured construction time in weekends instead of months.
The origins of the A-frame point to designs in ancient Japan and Polynesia as well as Europe where they functioned as cookhouses, farm storage sheds, animal shelters and peasant cottages. The form itself was rediscovered by Swiss and German architects in the teens and twenties, and then rediscovered again in the post WWII era. In the United States the A-frame had long been used for utilitarian structures on farms, but no one thought to live in them by choice. This view slowly changed spurred on with the publication of several A-Frame designs. Among the earliest was the construction of an A-frame a cabin in Lake Arrowhead, CA by architect Rudolph Schindler in 1936. Widely publicized, but ahead of its time, it took another 30 years for conditions to be right for widespread adoption of the A-Frame design. Among the most influential post WWII A-frame designs was the John Campbell cabin built in 1951 for the San Francisco Arts Festival. Called the "Leisure House," the Campbell cabin appeared in a variety of brochures, magazine articles, and plan books for the next 20 years.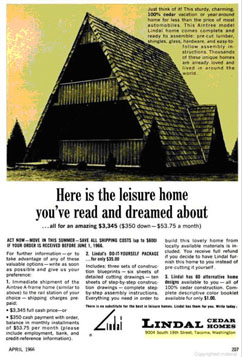 The spread of postwar vacation home construction and the excitement stirred by the first generation of custom-designed A-frames did not go unnoticed by the building industry. Trade associations and building product manufactures teamed up with architects to offer vacation-home plan books that featured material lists and/or complete pre-cut vacation house packages. Here in the Pacific Northwest designs were provided by such companies as the Home Building Plan Service, Vacationland Home Plans and Western Pine Association from Portland; the Simpson Lumber Co. from Seattle; and Lindal Cedar Homes and the Douglas Fir Plywood Association (DFPA) in Tacoma.
The DFPA was one of the first to see the coming of the vacation home boom. In 1957 they had heard about an A-frame design being drawn up by pediatrician and amateur builder David Hellyer. They offered Hellyer free plywood in exchange for the use of his plans, and photographed the house as it went up. Then, they featured the cabin prominently in their promotional campaign on the many uses of plywood. Within the first few months of publishing images of Hellyer's cabin on Henderson Inlet in Olympia, they filled more than 12,000 orders for complete working drawings. Over the next decade, Hellyer's cabin continued to be featured in a variety of regional and national magazines as varied as Sunset, American Tourist, Popular Mechanics and the Journal of Medical Economics.
The A-frame is a building form, rather than a style an can be utilized for dwellings, commercial buildings and even ecclesiastical stuctures. It is comprised of a triangle shape structure with a steeply sloping (60 degree) roof that extends all the way to the ground. Typically the structure is 1½ stories tall, utilizing a circular staircase or ladder to a loft space. Most designs have numerous large windows on the front and rear facades, small living space and few vertical wall surfaces. The interior is generally an open plan with living, dining and kitchen facilities on the lower level and a sleeping loft above. A gable balcony off the loft is commonly found. Occasionally, dormers may be used to increase loft space and illumination.
The basic design of the A-frame can be subdivided into several subcategories; 1) the standard A-Frame; 2) the arched A-Frame (marketed as the Olympic Chal-A); 3) the gambrel roof A-Frame; 4) the flat roof top A-Frame; 5) the A-Frame with wings; and 6) the double A-Frame.
It gets its name from the "A" shaped structural system that allows the elimination of the two side walls. The result is an inexpensive building with only four surfaces; two end walls and the gable roof. A triangle system is inherently strong making the design popular for areas at high altitudes with deep snow loads. While the design is typically found in mountain and waterfront settings, A-Frame designs can be found in residential developments. Some commercial and retail examples can also be found, although they rare. Many mid-century churches utilized the A-frame form for grand sanctuary spaces, often truncating the gable roof with short side walls.
As people became more conscious of efficient living, they realized that the A-frame had several inherent design problems, including awkward unusable space, and a lack of adequate side windows. The design waned in the 1970s, yet continued to be found in plan books as late as the 1990s.
Washington State Examples
Dick Lewis Pontiac-Cadillac
Olympia, 1964
Saint Joseph Church
Lynden, c.1960
Cabin
Hood Canal, c. 1965
Lake Easton Resort
Easton, c.1963
Resturant
Walla Walla, c.1966
Simpson Methodist Church
Pullman, 1957
Cabin
Mount Rainier, c.1959
Tiki Lodge
Spokane, c.1964
Dr. Hellyer Cabin
Olympia, 1957
For More Information:
Walker, Lester,

American Homes: An Illustrated Encyclopedia of Domestic Architecture

, The Overlook Press, New York, NY 1981.
McAlester, Virginia & Lee,

A Field Guide to American Houses

Alfred A. Knopf, New York, NY, 1992.

Cabins and Vacation Houses: A Sunset Book

Lane Books, Menlo Park, CA. 1967.

Year Round Vacation Home Plans: 50 Exciting Designs to Build

A Master Plan Service Inc., Turnpike, NY. 1969.

House & Garden Plans: 124 Best Selling House Designs

The Conde Nast Publications Inc., New York, NY, 1978.
A-Frame Flickr Group - https://www.flickr.com/groups/a-frames/
Randl, Chad G. "The Mania for A-Frames" Old House Journal, July/August 2004, pg 72-79.
Randl, Chad G.

A-Frame

, Princeton Architectural Press, Cambridge, MA, 2004.
"A Vacation House Can Pay for Itself" American Home, July 1961.
"Modern Living: Do-it-Yourself" Time, June 30, 1952.