Charles C. Dose and his father C.P. Dose, had platted the Dose Addition (ten acres along South Walker Street between 31st Avenue South and Lake Washington) in the Mount Baker Neighborhood in 1906. Charles C. Dose designed several houses in the subdivision and the Dose family would live in one house as they built the next one. They then sold the first house, moved into a new one, and built another. The Dose family, especially Mrs. Charles C. (Phoebe) Dose, were actively involved in the creation of the Mount Baker Park Improvement Club.
Charles C. Dose was born in 1870 in Chicago and was the second child of Charles P. and Ida L. Dose. Sometime prior to 1893, he became the assistant and then a partner in his father's successful Chicago-based residential and commercial real estate business. Both C.P. and C.C. Dose also appear to have been active in an electric lighting fixture business in Chicago and possibly in Seattle during the late 1890s. Although C.P. Dose had been associated with Seattle since 1871, his son did not visit the burgeoning city until ca.1890. He married his wife Phoebe E. (b.1870—d.1966) ca. 1896 in Chicago where their daughter Julia was born ca.1900.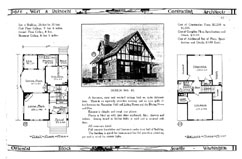 Charles C. Dose reportedly moved to Seattle in 1903 in order to assist his father who had moved to the city in 1898 and established the offices of C.P. Dose & Co., a real estate, loan and building enterprise. Around the same time, Charles C. Dose formed his own real estate company with partners George R. West and Claude A. Reinoehl. A November 1907 Seattle Times article noted that the partners in Dose, West & Reinoehl had previously been associated with C.P. Dose & Co. and that they would specialize in "erecting improvements of all kinds" as well as financing and development.
In 1908, Dose and his partners published a 120-page plan book catalog Architecture of Dose, West & Reinhoehl – illustrating over 70 plans for "artistic homes, flats, stores and apartment buildings." The designs ranged from inexpensive cottages to a fire-proof hotel building. The introductory catalog indicates that the firm also specialized in construction loans and could assist the prospective home owner in "getting a loan for almost any improvements you wish to make, either on a monthly payment or straight loan." C.A. Reinoehl was identified as the firm "architect" and George R. West as the superintendent (presumably the construction superintendent) and Charles C. Dose appears to have managed the business and coordinated construction loans.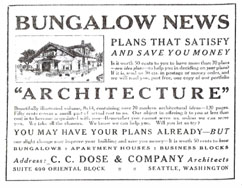 However by January 1909, Claude Reinoehl had moved to Los Angeles and the company was renamed C.C. Dose & Company, Architects. After this, all newspaper articles regarding projects cite the C.C. Dose & Company as the "architect" or "architects." While any formal architectural training of Charles C. Dose is unknown, Charles C. identified his profession as "architect" in the 1910 US Census. Washington State did not begin to formally license architects until 1919 and prior to that time the term was rather loosely applied and Charles C. Dose never obtained an architectural license. The firm continued to build and design homes into the late teens.
Charles C. Dose died in Seattle after a sudden serious illness on November 24, 1924. By this time he and Phoebe were residing at 2818 33rd Avenue S. In addition to his wife, he was survived by his father C.P. Dose, his sister Clara Dose Parrott and his daughter Julia Dose Graham. Phoebe Dose, who had been instrumental in the creation of the Mount Baker Park (Improvement) Club, Inc. (formed in 1909) continued to reside in the Mount Baker neighborhood and remained active in community affairs for many years. Phoebe E. Dose died in Marysville, WA in September 1966.
Adapted from the Charles P. & Ida Dose NR nomination by Kate Kraft; Michael Houser - Oct. 2016