Seattle architect Frederick (Fred) B. Stephen's career is often overshadowed by his father, James, whom he was in partnership from 1908 to 1928. The elder Stephen severed as the official School Architect for the Seattle School District from 1901 to 1909. During that time he had developed "Model School Plans," which were adopted for use in nearly all school designs in Seattle. After traveling to the mid-west and New York to study the latest advancements in school construction, in 1908 (around the time that his son Fred joined the firm) James had developed a second model plan which incorporated fireproof materials, such as brick, concrete and terra cotta.
Together the firm designed numerous schools around the state including projects for school districts in Wenatchee, Cashmere, Everett, Richmond Beach, Vancouver, Ellensburg, Olympia, Kirkland, Cle Elum, Chimacum, Chehalis, Fall City, and Port Townsend. Reportedly their plans were used for over 50 schools in throughout the Puget Sound region.
Fred Bennet Stephen was born on February 16, 1883 in Chicago, IL. The family moved to Seattle, via Pasadena, CA around 1889. Fred attended local school and after grammar school decided to follow in his father footsteps and become an architect. The family sent him to one of the best architectural training schools in the U.S. at the time, the University of Pennsylvania, where he graduated with a degree in architecture in 1907. When he returned to Seattle he immediately joined his father's practice. His dad had been stricken with typhoid fever after a trip to Mexico, and he needed his son to keep the practice running. Soon, the practice was renamed Stephen & Stephen. The firm continued to specialize in school design and it is likely that Fred was a significant contributing force to school designs coming out of the firm, particularly given his education at one of the most progressive architecture schools of the period.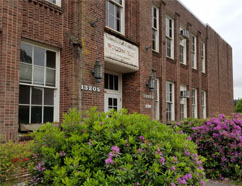 With business booming, in 1917 the firm was joined by William G. Brust, a fellow University of Pennsylvania graduate. In 1920, Brust was made a partner, and the firm was formally renamed: Stephen, Stephen & Brust. In 1926 William Brust left the firm and opened his own independent practice. James retired in 1928 and Fred continued to practice on his own in Seattle for another 30+ years.
During the late 1930s Fred developed a unique octagonal summer cabin plan for the Harbor Plywood Corporation in Hoquiam. The company featured the design in their "Plan-it" series brochures which received wide distribution. In fact the unusual design caught the attention of Sunset Magazine which also featured the plan in 1938. Reportedly Fred had constructed the cabin in the Cascade Mountains, but it has not been located, and only one similar design has been found. Other known projects during the 1930s are limited to a garage on Prospect St. (1931); the National Brewing Co. plant & office (1933), Woodinville School (1936), and Lincoln School remodel (1936) in Port Townsend.
During the late 1940s Fred was awarded a contract to design several new neighborhood fire stations for the City of Seattle. He developed a "standard design" which was used on five fire stations; Fire Station #30, Seattle (2931 Mt. Baker Blvd., 1949); Fire Station #21(7304 Greenwood Ave., 1951); Fire Station # 15 (1933 Minor Ave., 1951); Fire Station #9 (3829 Linden, 1953, demolished); and Fire Station #28 (5968 Rainier Ave., 1955, altered).
Fred was very active in the in the University of Pennsylvania alumni association in Seattle, becoming President of the Seattle group in 1920. He was also avid fan of automobiles, with several reports of his adventures in his car featured in the local newspaper. Among them is a feat of excellent fuel consumption with his 1911 Model G Franklin. A bit of an eccentric, Fred's adventures in hunting down wild bee hives in the forests around Seattle was featured in a full-page article in the Seattle Times in 1923. He was a mason and was a member of the Scottish Rite. He lived for many years in the Seward Park area for Seattle and was a member of the Columbia Congregational Church and the Columbia Pioneers Club. Fred retired in 1960 and passed away in Seattle on November 15, 1972 at the age of 89.
By Michael Houser, State Architectural Historian - March 2017