Spokane architect George Herbert Keith was born into a family of means in Minneapolis, Minnesota on November 18, 1878. His dad, George Hackett Keith, was a prominent doctor and was a member of the State's first legislature. Tragedy struck the family in 1882 when George Sr. passed away after a long illness leaving his wife to take care of George (then age 3), his two older brothers and a sister. The family remained in Minneapolis where George and his siblings attend local schools.
George's formal architectural training, if any, is unknown and census records indicate that he only completed school through the 8th grade. However, Polk Directories indicate that by 1898, at the age of 20, he was serving as a draftsman in his older brother's Walter's architectural firm in Minneapolis. While working there, on June 20, 1900, George married Katherine O. Adams. Together they had three children, all girls (Esther, Eleanor and Ruth).
By the turn-of-the-century, business for the Keith's architectural practice was going well and they were looking for ways to expand. In 1902, George and his brothers Walter J. and Max L., formed a land development company. Known as Keith & Co., the company had a capital stock of $100,000.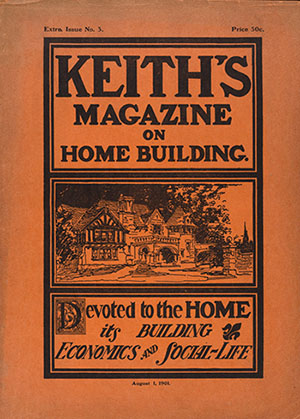 That same year they also formed a book publishing company. George served as the Secretary. His oldest brother Walter served as President and Treasurer, and Max served as Vice President and Publisher. Together they started Keith's Magazine, a nationwide "authoritative magazine for home builders." Each 80-page issue featured articles on building techniques, interior design and architecture. It also included plans for homes which could be ordered directly from the company. Marketed across the United States in a variety of catalogues, books and magazines such as Ladies Home Journal, the magazine helped popularize the bungalow style and was published from 1901 to at least 1928.
Increasingly the young George took on the role as designer at the firm. Known projects directly attributed to him include the Linden Hills Congregational Church (1903) outside of Minneapolis;the Farmer's Creamery (1906) in Northfield; a home for G.W. Rathburn (1906) W.R. McLeod House (1906), and Clarence Brown (1906) all in Minneapolis; and the D.M. Walker House (1906) in St. Charles, Iowa.
Most likely due to increased business, in 1905 the Keith's formed a partnership with noted architect New York architect Leon Narcisse Gillette. Reportedly he was to provide them with most of their architectural designs. Perhaps wanted to make a name for himself, within a year, George decided to move to Spokane, arriving by November of 1906. He soon took a job with John K. Dow, one of the most prominent architects in the city at the time.
After Dow promoted one of his long-time associates Clarence Z. Hubbell to partner, Keith decided to leave the firm and in 1908 he formed a partnership with fellow Dow employee Harold Whitehouse. Together they had a thriving practice. Notable designs include the Jefferson Hotel (1904); a house at 611 E Indiana (1908); the Ridgeway Theater (1908) in Colfax; the Daniel Morgan House (242 E Manito Pl, 1909); the Clark-Weiss House (1909); Mrs. M.J. Wiard House (2414 w 2nd Ave, 1909); a house at 1211 s Wall St. (1910); the Northwest Cold Storage & Warehouse Co. (1910); the Parsons Hotel (1909); the Boyd and Alta Hamilton House in Coeur d'Alene; and the Stratford School (1912) in Stratford. Note that several of Keith & Whitehouse designs in Spokane were featured by his brother in Keith's Magazine.
Wanting to further his education, Whitehouse left the firm in 1911 to study architecture at Cornell. Keith then continued an independent practice. Projects during this phase of his career include several notable commissions including the Levi & May Arkwright Hutton House (1914); the Okanogan County Courthouse (1915); the Grant County Courthouse (1917).
In 1918 he was called to serve the Y.M.C.A. in France during WWI and returned to Spokane in 1920, reopening his practice in the Hutton Building. While overseas, when the state began licensing architects, Keith was awarded license No. 20, on October 18, 1919. Projects during this later phase of his career projects included the Manito Masonic Temple (1923); and the Royal Riblet House (1925).
Keith continued on his own until 1929, but times were hard for him during the late 1920s, both personally and professionally. Economic fortunes forced him to take a job with his former partner Harold Whitehouse. He also divorced from his first wife Katharine during this time. On November 16, 1929 at the age of 50 he married for a second time. With his new wife, Clara A. Stites, they had one son, George H. Jr., born in 1930. Around 1935, George and Clara moved backed to New Jersey, most likely to be closer to Clara's relatives. It is unclear if he practiced architecture there. The 1940 census records indicate that his occupation was a superintendent at an undisclosed industry. Keith passed away on July 16, 1953 at the age of 74 in Essex, New Jersey.