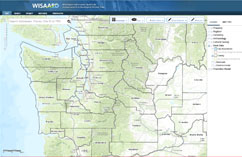 The WISAARD is a search tool and a data entry application. It is used to submit inventory forms and reports to DAHP, but it is also used to track the administrative record of all compliance projects that come through our office.
If you are a member of the public and would like to search for historic properties, click the image at right or use this link to the PUBLIC interface where you can search publicly accessible information without logging in. This includes all above-ground resources that have been surveyed and National Register-listed buildings, structures, and sites.
Access to archaeological data is redacted from public viewing in accordance with state law. More information about access to archaeological data can be found here.

If you need to enter any information into Wisaard, such as an EZ-2 form, Archaeology or Historic Property inventory forms, or a Section 106 project, you will need to enter Wisaard through the state's secure portal, Secure Access Washington. You will need to create a SAW account. Please follow these instructions:
If you already have a Secure Access Washington account and used the previous Wisaard/HPI, please see here for instructions to request Wisaard. You will also need to submit a new agreement for archaeological access as all agreements expired July 1, 2016. You can download the new agreements here.
If you did not have a previous Secure Access Washington account and have never used Wisaard for data entry or archaeology access, see here for sign-up instructions.
Please note that there is no longer a separate service for HPI. The new Wisaard is a singular interface for searching and historic property data entry.
If you are using Internet Explorer and can't get past the spinning wheel or gray screen, see these instructions. If that does not work please let us know. We have not had any issues reported with Google Chrome or Firefox internet browsers.
Questions? Contact: Kim.Gant@dahp.wa.gov or 360-586-3074 or email to support@dahp.wa.gov.
Notes from Wisaard Training Sessions - POSTED 11/2/2016
Tutorials