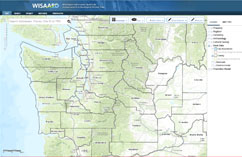 Wisaard is getting a facelift. We have delayed the launch as of July 29, 2019. A new date will be announced soon. After the launch all of the tutorials below will be obsolete and it will take us just a little time to get new ones made. We will get new ones up as soon as we can. The Secure Access Washington instructions should remain the same.
The WISAARD the state's digital repository for architectural and archaeological resources and reports. Searching the database and data entry are its main functions.
If you are a member of the public and would like to search for historic properties, click the image at left or use this link to the PUBLIC interface where you can search publicly accessible information without logging in. This includes all above-ground resources that have been surveyed and National Register-listed buildings, structures, and sites.
Access to archaeological data is redacted from public viewing in accordance with state law. More information about access to archaeological data can be found here.

If you need to enter any information into Wisaard, such as an EZ-2 form, Archaeology or Historic Property inventory forms, or a Survey Report, you will need to enter Wisaard through the state's secure portal, Secure Access Washington. Please follow these instructions to gain access:
If you already have a Secure Access Washington account please see HERE for instructions to request Wisaard.
If you did not have a previous Secure Access Washington account, see HERE for sign-up instructions.
If you need to change your email address for your Secure Access Washington account, click HERE
Internet Browser Issues
If you are using Internet Explorer and can't get past the spinning wheel or gray screen, see these instructions. If that does not work please let us know. We have not had any issues reported with Google Chrome or Firefox internet browsers. We have had one user experience possible issues with Microsoft Edge. This is a new browser and we have not yet pinpointed specific issues. We continue to recommend Chrome or Firefox.
Questions? Want to report an issue? Send an email to support@dahp.wa.gov.
Tutorials