We are pleased to announce the celebration of October as Washington State Archaeology Month. Please see our public service announcement and feel free to share with others. Ask your local media outlet to run it on your local TV station.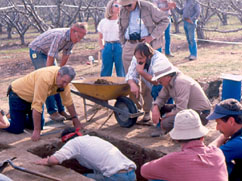 During this special time, we promote a variety of archaeological related events across the state, which focus on the general importance of protecting Washington's rich archaeological heritage. Please feel free to contact Beva Ubias at (360) 586-3065or at Beverly.Ubias@dahp.wa.gov should you have any submitals for our Archaeology Month calander.
For a look at previous years Archaeology Month posters click here. If you would like a copy any of the previous years poster, please contact Beva Ubias at (360) 586-3065 or Beverly.Ubias@dahp.wa.gov.