Historic Preservation Month
Nominations Sought for Outstanding Achievements in Historic Preservation
*deadline extended to April 2, 2021 (see below for more information).
The Washington State Department of Archaeology and Historic Preservation (DAHP) is seeking nominations for the 30th Annual Awards for Outstanding Achievements in Historic Preservation. This awards program recognizes persons, organizations, and projects that have achieved distinction in the field of historic preservation.
Award recipients will be recognized via individual video to be posted online to DAHP's webpage and social media accounts during National Historic Preservation Month, May 2021. Award recipients will be requested to submit a video 1-4 minutes in length following notification of their respective awards, to be included on DAHP's webpage and social media. All videos will be compiled and posted online in May 2021.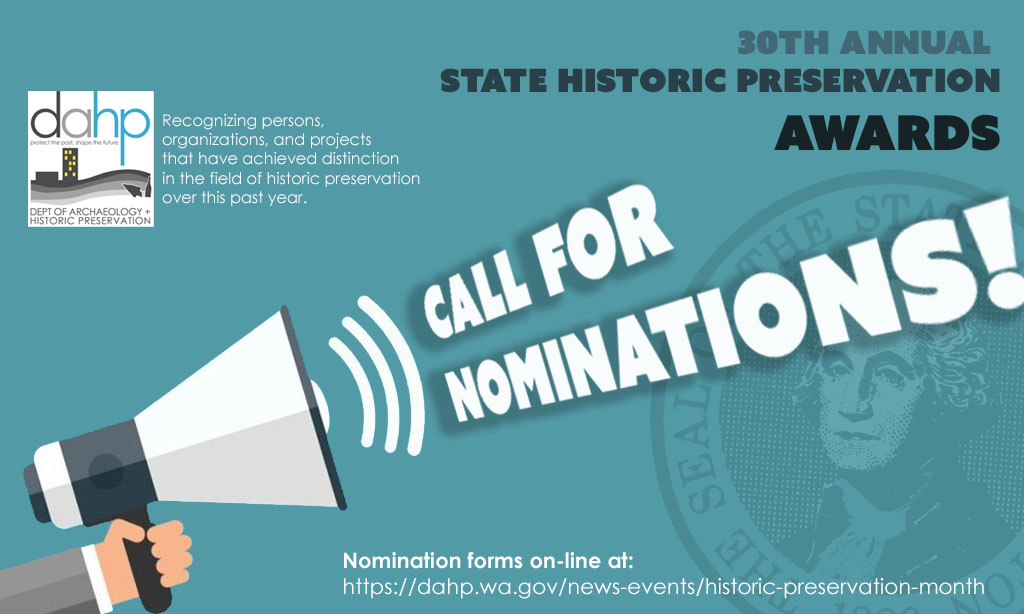 Nominations can be made in one of the following categories.
WA Heritage Barn Rehabilitation Award
Career Achievement Award
Historic Cemetery Preservation Achievement Education Award
Preservation Education Award
Historic Preservation Stewardship Award
Historic Preservation in the Media Award
Historic Preservation Planning Award
Special Achievement Award
Valerie Sivinski Award for Historic Rehabilitation projects.
Nominations for the State Historic Preservation Officers Awards must be postmarked or submitted to DAHP by Friday, April 2, 2021, at 5 pm.