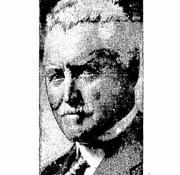 Bibliography:
Cornelius Hanford. Seattle and Environs, 1852-1924. Chicago and Seattle: Pioneer Historical Publishing Co., 1924, pp. 302-305.
Christian Science Monitor. "Any Job To Keep His Men At Work, Pederson Motto." 27 March 1931.
NRHP Nomination - Washington Hall - Dec 2010, Eugenia Woo
"Hans Pederson Contractor, Dies; Name Lives On" Seattle Times: Sept 7, 1933.
Builder Hans Pederson was the most prominent builder in the Seattle area during the early part of the 20th century. He was born in Denmark on September 2, 1864, and received a common school education. After completing the required term of military service he immigrated to the United States to seek better opportunities. Pederson first settled in Minnesota in 1884, working as a farm hand. He then journeyed westward in 1886, working on the construction of the Northern Pacific tunnels through the Cascade mountains. He arrived in Seattle in 1886 and worked on the railroad construction along Lake Union. After the June 6, 1889 great fire in Seattle, he helped rebuild the city's business district and continued in the building business. Pederson's spirit of adventure and desire to strike it rich took him to Alaska during the Klondike Gold Rush in 1898. He came back to Seattle unsuccessful and returned to the contracting business.
He excelled as a builder and soon became one of Seattle's most prominent and prolific contractors. The first decade of the twentieth century was a good time for builders and architects in the city—Seattle and Puget Sound were bustling with the biggest population growth in history and building had to keep pace to provide residential, commercial and public buildings, and infrastructure (streets and bridges) to meet and support demand. Seattle continued to do well into the 1910s and 1920s before the stock market crash.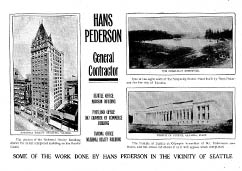 His project number in the hundreds over the course of 30+ years and ranged from nearly 40 large apartment houses, to sidewalk and road paving projects, to large skyskrapers and individual homes. Among Pederson's most notable projects are the Arctic Building (1916); Seaboard Building (1909); Milwaukee Hotel (1911); St. Regis Hotel (1909); the Rex Theatre (1915, demolished); Alhambra Theatre (1909, extensively altered); King County Courthouse (1916); the Blue Mouse Theatre (ca. 1920, demolished), the 15th Avenue NW (Ballard) Bridge and viaduct (1917); Ford Assembly Plant in Seattle (1913); Washington Hall (1908); Temple of Justice (1920) in Olympia, and Terminal Sales Building (1925). He also constructed many country roads throughout the state of Washington and worked on reclamation projects. No project was too great or small for Pederson. A March 27, 1931 article in the Christian Science Monitor noted Pederson's motto was to take any job to keep his men at work. This was in the depths of the Great Depression when Pederson kept busy and his priority was to keep his crew employed and paid. His reputation reached back to Denmark, his native land, where a book about him was published titled, Kong Hans ved Stillehavet, or King Hans of the Pacific Ocean.
Pederson married Marie Madsen in 1900. Their only child, Hans Jr., died at the age of nineteen. Pederson later remarried and his second wife's was named Doris. Hans Pederson died in Seattle on September 6, 1933 at the age of 69. His legacy to Seattle's built environment is evident in much of his work, which remains today.
Adapted from Washington Hall NR nomination - Eugenia Woo