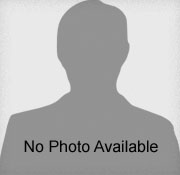 Bibliography:
Anderson, Dennis Alan, and Katheryn Hills Krafft. "Plan Books, Pattern Books, Periodicals." In Shaping Seattle Architecture: A Historical Guide to the Architects, 2d ed., ed. Jeffrey Karl Oschner, 94-101. Seattle: University of Washington Press, 2014. (Voorhees)
Western Home Builder - 5th Edition - V.W. Voorhees.
The Red Cedar Shingle - Brochure; Red Cedar Shingle Manufacturers' Assoc., Lumbermen's Printing Co., Seattle, WA. C. 1920.
Architects Reference File, University of Washington Special Collections. Box 13: Voorhees, Victor W.
Architectural Drawings, University of Washington Special Collections. "Theater Building for W. T. Campbell [at Alaska Street and 39th Avenue SW]," Victor W. Voorhees, architect, 1930. M196 Folder, Ref. #277.
Hamm Building - City of Seattle. Department of Neighborhoods, Historic Preservation, Historic Resources Survey Database.
Glickstein, Don. "Victor Voorhees and the Prospering of Seattle, 2001." Architect Files (photocopy). Special Collections, University of Washington Libraries, Seattle.
Daily Journal of Commerce:
"Wants Bids on New Building in West Seattle,"19 September 1923.
"New Building for Junction to Cost $20,000," 16 September 1924.
"$10,000 Building Planned for California Avenue," 28 October 1924.
Ochsner, Jeffrey Karl, ed. Shaping Seattle Architecture: A Historical Guide to the Architects, 2d ed. Seattle: University of Washington Press, 2014.
Polk, R. L., Company. City Directories, Ballard. 1904-1907.
Seattle Times:
"This Will Be A Big Realty Month," The Seattle Times, February 18, 1906, p. 38.
"Georgetown Soon to Have New Municipal Building," The Seattle Times, January 9, 1909, p. 5.
"Another garage for Broadway planned," The Seattle Times, April 10, 1912.
"Automobile Building," classified advertisement under "business opportunities," The Seattle Times, September 9, 1919, p.27.
"Modern 8-room...," classified advertisement under "furnished houses," The Seattle Times, November 19, 1919, p.27.
"$200,000 lease signed by Sherman, Clay Co.," The Seattle Times, November 2, 1924, p.21.
"$500,000 Investment," The Seattle Times, April 26, 1925, p. 22.
"Work Started On $50,000 Building [for J. E. Carroll]," 17 May 1925.
"10-Story Building Is Next Project In Times Square Area," The Seattle Times, January 12, 1926, p. 1
"West Seattle Has New Business Block," 16 May 1926.
"$100,000 Will Be Spent For Ellengburg Coah Terminal," March 9, 1930.
"New General Tire Stations," Aug 9, 1936.
"Mrs. Victor E. Voorhees Funeral," Sept 15, 1937
"New Theatre For West Side Planner," June 9, 1938.
"New Building For Auto Supply Firm," June 24, 1956
Santa Barbara [CA] News-Press:
"Deaths and Funerals – Victor Voorhees," 11 August 1970.
United States Federal Census Records. 1900.
Although Seattle architect V. W. Voorhees is probably best known for his early twentieth century plan books, his contribution to the built environment of the greater Seattle area goes far beyond this narrow residential scope. A prolific designer, his career embraced a great variety of building types in many styles, including a number of Seattle's significant urban commercial buildings. Victor Wilbur Voorhees, was born in Cambria, Wisconsin on May 4, 1876. He began his career in real estate in Minneapolis, Minnesota, before relocating to the Seattle area in 1904. He initially worked for the Chicago, Milwaukee & St. Paul Railroad, but within a year, he left the railroad and established an architectural firm with Elmer Fisher. Although he had no formal training in architecture, Voorhees decided to branch out on his own within a year. His earliest commissions were in the Ballard area of Seattle near his business, but he quickly branched out, eventually working for clients in most Seattle neighborhoods and throughout Washington.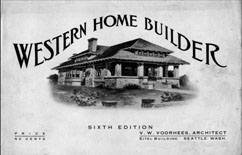 Voorhees is perhaps best known for his popular book of house plans, Western Home Builder, first published in 1907. Heavily advertised in local newspapers, the plan book was so popular it had been reprinted seven times by 1911. Historians Dennis Alan Andersen and Katheryn Krafft describe Voorhees as "one of the most successful local architects to promote standardized drawings and specifications for direct sale to potential homeowners and builders." His popular Design No. 91, commonly known as the Classic Box or Seattle Box, is a familiar two-story, hipped-roof residence with distinctive upper-story corner bay windows that is found throughout the Pacific Northwest.
Residences, however, represent only part of Voorhees' body of work. He is associated with the design of more than 110 building projects throughout Seattle, including retail and commercial buildings, hotels, churches, apartment blocks, single-family dwellings, factories, garages and industrial buildings. Some well-known Seattle designs include Washington Hall (1908); the Georgetown City Hall (1909); the Washington Arms Apartments (1919); and the Troy Laundry (1927).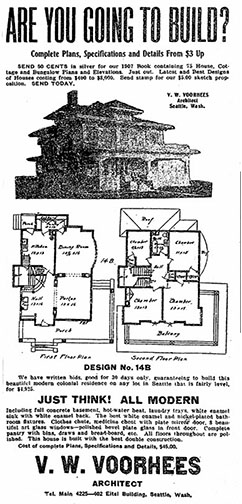 Continuing research suggests that Voorhees was particularly prolific in West Seattle, where he is credited with designing buildings as early as 1913. Voorhees designed Perry's 10-cent Store/Wells Fargo Bank (1920; 2344-2352 California Avenue SW), "one of the oldest and most intact commercial buildings" in West Seattle's Admiral District. Among his first Junction-district projects was an addition to the Campbell Building (4554 California Avenue SW) in 1920, after which he earned several commissions through prominent builder-developers. The Daily Journal of Commerce noted three Voorhees projects there with a thirteen-month period in 1923 and 1924, and he had three more by the close of the decade. Other surviving Voorhees buildings in the Junction commercial district include the Crescent-Hamm Building (1925-26; 4302 SW Alaska Street), the J. C. Penney / Ernst Hardware Building (1926; 4520 California Avenue SW), and the Arcade Public Market (1930; 4548 California Avenue SW).
Voorhees also did a considerable amount of work for the Vance Lumber Company during the 1920s, including remodeling the Seattle Engineering School in 1926 into the Marqueen Apartments (now Marqueen Hotel) in the Queen Anne neighborhood; the Vance Hotel (1926) in downtown Seattle (now Hotel Max); and the Lloyd Building (1926). In 1917 he became the supervising architect for the Willys-Overland Motor Company, one of the earliest producer/manufacturer of Jeeps, and designed many auto showrooms and garages in Seattle and Spokane.
Although Voorhees' influence is under-documented outside of Seattle, his works beyond King County include Vancouver's US National Bank Building (1912); the Vradenburg Apartments (1922) in Wenatchee; the Ellensburg Coach Terminal (1930); and residences in Bellingham and Centralia.
Voorhees maintained an aggressive professional pace until about 1930. Nevertheless, his name and business appeared in the Seattle city directories until 1957. One of his last projects was the Schuck's Auto Supply Store (1956; 14320 Aurora Ave). In 1958 he retired to Santa Barbara, California where he died on August 10, 1970 at the age of 94. Voorhees's son, Frank E., became a prominent buildiner in Seattle during the 1930s. His firm, "Homes Incorporated", focused on mainly residenitial projects, many found in the north end of Seattle.
Adapted from local landmark nominations for the Crescent-Hamm Building (4302 SW Alaska Street, Seattle) and the Campbell Building (4554 California Avenue SW, Seattle) - Sarah J. Martin, January 9, 2017