Nifty from the Last 50 Initiative
Launched at the 2003 State Historic Preservation Awards, the "Nifty from the Last 50 Initiative" is the state's first official effort to recognize and record Washington's post WWII or "Mid-Century Modern" resources. The project was a joint effort by the Department of Archaeology & Historic Preservation and DOCOMOMO_WeWa. While the Initiative was originally a focused two year effort, DAHP is still accepting survey forms.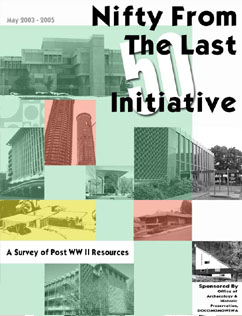 To date, over 350 mid-century modern properties have been recorded all over the state. They include such buildings as a group of playful ecclesiastical structures designed by the Spokane architectural firm of Funk, Murray & Johnson in the 1960s.
The survey has also uncovered a group of buildings designed for Seattle First National Bank. The collection of buildings are representative of an early version of corporate identity, using cutting edge marketing philosophies such as "Product-Place-and Packaging". Seattle architect J. Lister Holmes designed the first/model bank for Seattle First National. Other architects would then take this standard design and adjust it to the local conditions. And today versions of the bank can be found all over the state.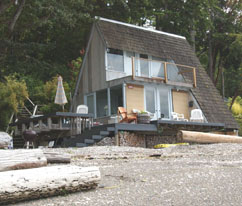 Over the last five years, several post WWII properties have been listed on the National Register. They include the 1950 Gaffney's Lake Wilderness Lodge in Maple Valley, the Kenneth & Enda Brooks House in Spokane completed in 1956, the James Chiarelli House in Seattle, and the Curran House in University Place. The Brooks, Chiarelli and Curran House were the first post WWII properties to be listed on the National Register their respective cities. Other nominations of buildings from the recent past are in progress of being completed. To download a copy of these nominations use our on-line database WISAARD.
Still the number of Post WII resources listed on the National Register is woefully under-represented when compared to other resources that have been listed on the register. Washington State has yet to list a post WWII subdivision, nor recognize the many groundbreaking modern dwellings in the Pacific Northwest which were featured in national magazines such as Sunset, Better Homes & Gardens, and Architectural Record.
Reports
Seattle Area Parade of Homes Project
Guidelines & Lists
Presentations
Post WWII Period Publications
Planning
Construction
Concrete
Color
Windows
Home Plans
Vacation Cabins
Commercial
Fencing
Siding
Fallout Shelter
Geodesic Dome
Architects & Builders
Schools
Website Links